Reem Abbas is a Masters-qualified professional who worked for the United Nations and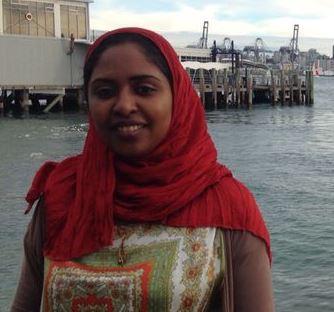 the International Committee of the Red Cross in Sudan. After moving to NZ four years ago with her husband and two children, she found that quality work was hard to come by. She spent two years as a full-time mum, then started exploring the option of pursuing her doctorate. One day around 16 months ago, Reem got two pieces of news: she got a grant to pay for the first year of her PhD, and she found out that she was pregnant. Although she knew that expanding her family and embarking on a PhD would be a lot of work, she never considered scaling back: "I had no option. I could not let go of this chance." Now Reem has completed her first year working on her PhD in eHealth, finding ways to improve emergency medical treatment.
Reem's older daughters – aged 9 and 6 – know what their Mum does for work. "I explain to them the importance of what I'm doing," she says. "They theoretically understand it, but I don't think they like it." She knows that aspects of her study are tough on the girls; when she has to stay on campus past their bedtime, she misses out on those precious pre-bed hours when her daughters talk about their day and share their thoughts and feelings.
But Reem is not the first woman in her family to balance motherhood with education. Her mother got her Bachelor's degree in Economics and Political Science in 1969, and later completed a Masters degree in translation. Reem credits her mother as a huge influence on her philosophy towards higher education. She says of her PhD: "I'm sure [my daughters] will look at it with pride" because that's how she feels about her own mother's achievements. Reem's mother came to NZ to help with the baby, and gave her the time and space to work. When her baby was just 6 weeks old, Reem presented a paper at the Health Informatics NZ conference and won the Best Student Paper award. "I call this baby my bundle of luck" she says, though "without [Mum] I wouldn't have been able to do that presentation."
Reem has desks at home and on the South campus, and she finds that tailoring her tasks to each environment helps her to stay on track. She can focus better on campus, so she saves her deep concentration tasks for there. At home she can face distractions, so she works on lighter tasks like admin and sending emails. Though she has a secret weapon at home: "my husband distracts the girls whenever they try to come in!"
But even with good support from her family, there are times when her parenting responsibilities become so overwhelming that "the day goes by and I don't do any [research]." On those days, Reem says, she goes to bed feeling down. The to-do list in her head remains undone, and she becomes frustrated. Reem says that "having supportive supervisors is a big thing" – fortunately, hers are very flexible and understand that she will have good days and bad days.
With such a busy and demanding schedule, Reem also misses connecting with other loved ones. "I don't get to spend quality with my husband anymore," she says, and with her Mum about to return to Sudan, Reem knows she will miss chatting with her too. But despite the sacrifices she makes for her study, she remains committed. She is focused on the job opportunities that await her when she becomes Dr. Abbas, and she is aware that with her very practical research topic, she will be able to find work internationally if she chooses.
For now, Reem says, she thinks "one day ahead; two max." I ask her how she manages her all her tasks and she replies: "one step at a time."