It's Friday… time to play If My Thesis Were A!
I'm pretty sure most postgrad students are in a complicated relationship with Facebook. In the early stages of a research project, it's a fabulous way to take a break and/or procrastinate. In later stages, it can be too much of a temptation. At crunch time, it's probably way off your radar.
But what if your thesis had its own Facebook profile? What kinds of status updates would it post? I think mine would look something like this… (click on the heading of this article to see images, if you can't already.)
My thesis would start each day sarcastically optimistic…

… And then it would get a little less likeable.

As the day progressed, it might publicise its acts of sabotage…

… And it would almost certainly not understand my reactions to the aforementioned sabotage.

I don't think it would beat around the bush.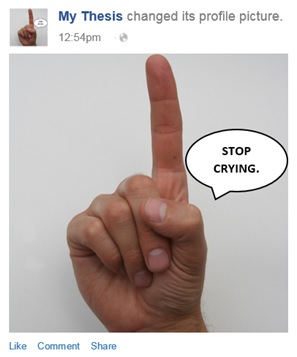 It might have mixed feelings about the moments when it expands beyond the target word count…

… But it would love being proofread and edited.

It would be resent being put away in the evening…
… So much so, that it would demand more attention at unsociable hours.
But it would be kind enough to give little hints that it will reward my efforts in the end.
Play along, ThesisLinkers! What would your thesis say on its Facebook profile?