Editor's note: this article, published in 2016, makes reference to a previous edition of the AUT Postgraduate Handbook that is now out of date. The most recent edition can be downloaded here (student login required).
Margins, fonts, pagination, spacing, headings… OK, so formatting isn't the most glamorous aspect of any writing project. Unless you're a font nerd, it probably seems kind of dull. But it has to be done, and like any inevitable chore, formatting a thesis is easier if you set up good habits early on. Even if you're just beginning to write, it pays to do a little homework on the format in which you need to present your thesis, so that you can save yourself weeks of retrospective formatting before submission. But where to start?
Read any rules your university sets
Some universities set very stringent rules for formatting a thesis; others leave many formatting choices up to you. You can find AUT's rules on p.111-119 of the Postgraduate Handbook. If the university's rules aren't appropriate to your particular work, it's important to raise this with your supervisors early.
Make your word processor work for you
Most writing software allows to you preset standard styles so that your fonts, headings, and sizes will be consistent. If you're a Word user, you'll have built-in styles for normal text, plus several levels of headings. Customise them from your home tab by right clicking any one and modifying it as needed.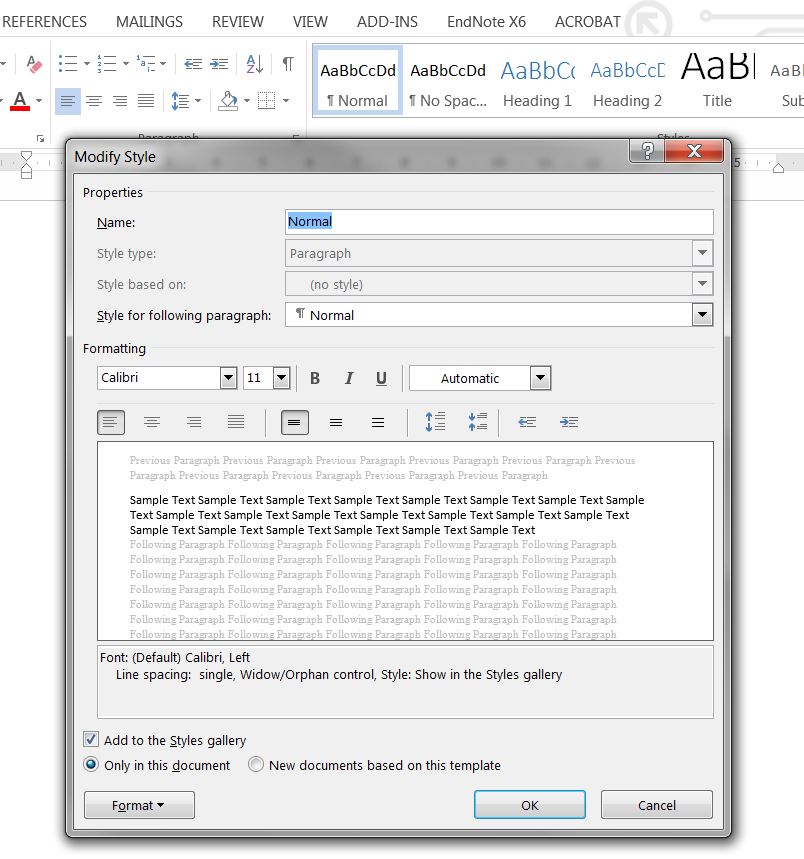 Then just make sure you're entering your headings in the right headings style, and your normal text in normal style. That will standardise your font, size, and spacing  throughout your thesis. (Plus, bonus, if you use the headings styles, you can auto-generate a contents page and view your headings in the navigation pane.)
Keep a formatting cheat sheet by your computer
Once you know how you need to format your writing, create a cheat sheet summarising what you've learned. Mine has, in big bold letters, "INDENT LONG QUOTATIONS, SINGLE SPACE" because that's the rule I always forget. You may also want to note your rules for formatting footnotes, the bibliography, and contents page. Again, a lot of this can be achieved in Word with customised styles, but a cheat sheet is handy in case you forget to apply the right style as you're writing.
Sanity-check your bibliography
No matter how much you trust your citation management software, or how well you think you know your citation style, check your references. Go back to basics. Look up some examples of correct citations in your style – and not just the style, but the correct version of the style (e.g. APA 5th vs APA 6th). When I did that, I realised that I'd been capitalising incorrectly as I entered sources in EndNote – meaning that EndNote was spitting out bad capitalisation in my bibliography.
Give yourself plenty of time before you print
A thesis is a hefty document; you don't want to have to print it out any more often than you need to. So check everything over before the final print for any last-minute adjustments. Make sure that figures, illustrations, graphs, and tables don't break over pages. Update your contents page. Check the pagination. Double-check that every in-text citation has a corresponding entry in the bibliography.
It also pays to read the rules one last time before hitting print. For example, AUT's guidelines specify that your thesis must be printed on one side of each sheet only, so make sure you turn off the double-sided print option. (Sorry, trees.) If you're having your thesis printed and bound by a professional printer, make sure that they know the rules. And leave some time for the binding; it can take a few days or even weeks in peak times.
Got any tips? Add them in the comments below.