Who has perfect writing skills? Not me. I got my PhD in English, and I still manage to blatantly split my infinitives.
We all need a little writing help sometimes. Even professional writers have the assistance of editors when preparing their work for publication. That's why it is perfectly legitimate to hire a proofreader to check the spelling, grammar, and referencing in your thesis.
A proofreader can correct minor mistakes, alert you to sections of writing that need more work, and generally make your thesis look just that little bit more professional. Your faculty PG office should be able to recommend a proofreader who is familiar with the standards of writing in your discipline.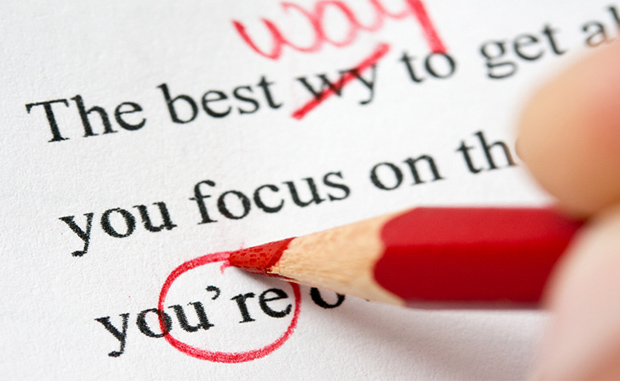 However, academic proofreaders are highly trained professionals, so be prepared to pay for their services. We're talking hundreds or (more likely) thousands of dollars, depending on the length and complexity of your thesis. You can try contacting a few proofreaders for quotes before you choose one, so that you can get a sense of costs. Fortunately, you may be able to get full or partial funding through your faculty. Typically, you would include your proofreading plans (and the associated budget allocation) in your PGR9 budget.
A few caveats – if you do decide to hire a proofreader, make sure that they are aware of the requirements set by the university for margins, fonts, and page ordering. That way, they won't undo your careful formatting work. At AUT, our requirements start on p.100 of the Postgraduate Handbook.
More importantly, bear in mind that while it is allowable to get someone to check your work, they may not change you work beyond minor corrections. AUT has some proofreading guidelines for PG students, so be sure to work within those. It's very important to remember that AUT considers rewriting, structural editing, and intellectual content to be a student's responsibility. Your proofreader must not do any work of that nature. They may make suggestions about passages that need to be revised or restructured, but they must not do the revising or restructuring themselves.
You'll also need to clear your proofreading plans with your supervisors. They can give some input as to the timing of the proofreading, to ensure that your proofreader works on a draft that is near enough to being 'final.' The last thing you want is to do is spend thousands on a proofreader, only to realise that you have to change the thesis content. That's a recipe for heartache and wasted money.
Of course, all of this is optional. If you feel confident as a writer, and your supervisors have checked your work, there's no need to spend money on more reviews. Just be aware that if there are any lingering language errors in your thesis, you may be asked by examiners to correct them.