AUT 3 Minute Thesis doctoral champion Peter Jean-Paul is in Brisbane right now, getting ready to compete in the Asia-Pacific 3MT finals! After weeks of rehearsal, refinements, and professional coaching, Peter is scheduled to hit the international stage at 11:42am Queensland time (2:42pm NZ time).
You can watch the livestream of Peter's talk here. Tune in from around 2:30pm to be sure of seeing his performance. (There are several streams – make sure you watch the one for Auditorium 222.)
There will be 56 competitors from around the Asia-Pacific region. If Peter is one of the top 10, he will compete again sometime between 2:45pm – 4:30pm Queensland time (5:45pm – 7:30pm NZ time). Watch the livestream of that here, and vote for the People's Choice award here.
Peter has worked incredibly hard to get to this point. He knocked the socks off the crowd when he competed at the AUT 3 Minute Thesis doctoral finals, winning not only first place, but the Audience Prize as well!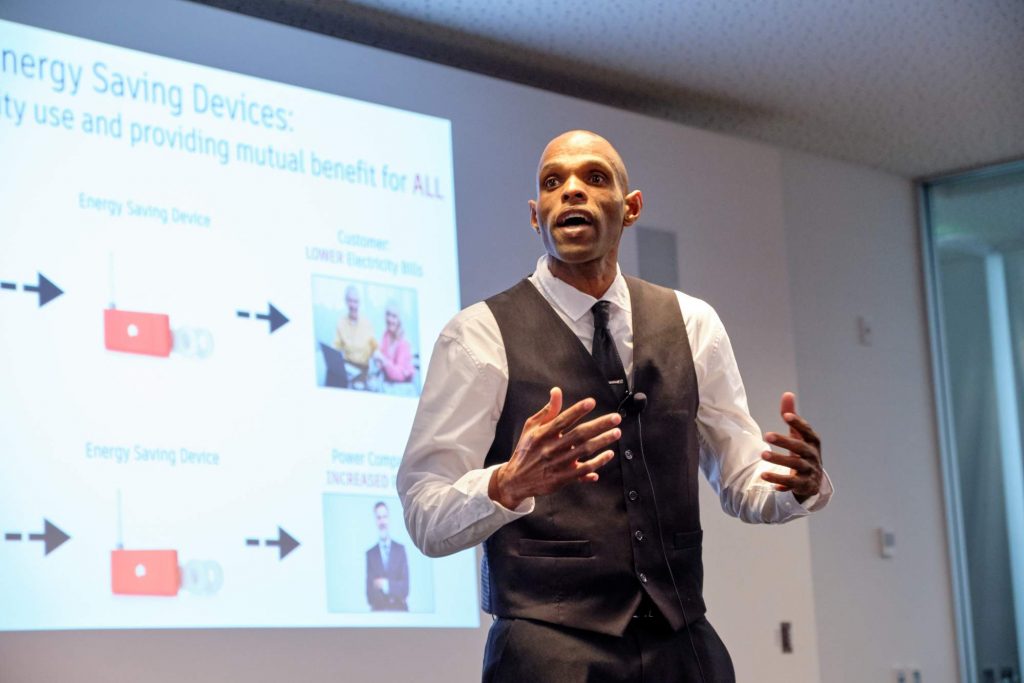 Peter's 3MT talk describes his research into the adoption of energy saving devices (ESDs). ESDs can help households make their power use much more efficient, thus saving them money and reducing their environmental impact. But power companies, fearing reduced profits, have resisted installing ESDs in homes. Peter's research proved that ESDs benefit power companies by reducing costs and ultimately increasing profits even though consumers use less power. This has huge potential to incentivize the use of ESDs, saving consumers money and reducing overall energy consumption.
Since winning the AUT 3MT doctoral competition, Peter has worked with multiple AUT staff and coaches, and done countless hours of independent preparation, to make his talk truly world-class. Regardless of the outcome of the competition, we are so proud of Peter's success!
Good luck Peter – if you listen closely today, you'll hear us cheering you on from NZ.