Kudakwashe Tuwe represented AUT at the 3 Minute Thesis Trans-Tasman Finals in Brisbane on 2 October. Tuwe competed in a field of 50 university finalists from around Australia, New Zealand, and Asia – the best of the best.
To watch Tuwe in action, go to the 3MT Trans-Tasman website here, play the Livestream video at the bottom of the page, and toggle across to the video entitled "3MT Trans-Tasman Finals 2." Tuwe comes onstage at 22:30.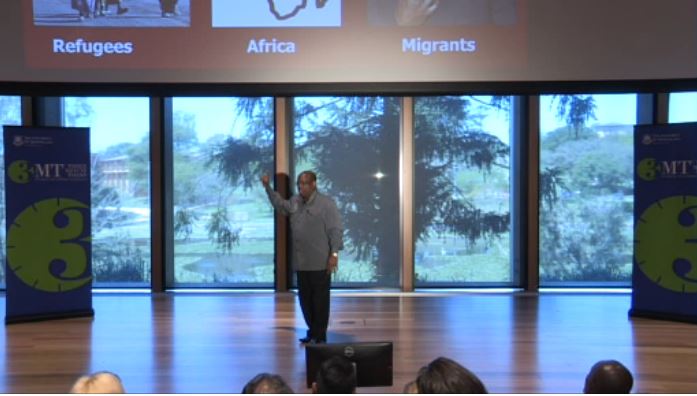 Although he didn't place in the top 10, Tuwe gave a very strong presentation and came away with lots of new expertise on how to succeed on the international stage. Thesislink sat down with him to get his thoughts post-3MT.
Q. What was it like going to the 3MT Trans-Tasman finals?
A. I think for me, it was a learning curve: very inspiring, very enriching and encouraging. I learned a lot. So it's an experience that I would encourage other students, if they have an opportunity, to really grab.
Q. What was the standard of the finalists?
A. The standard was really very high. Those guys knew their stuff.
Q. How did the Trans-Tasman finals differ from the AUT competition?
A. There is not much difference, except for the fact that there are a lot more participants. In the 3MT competition for AUT PhD students there were only 6 finalists, whereas in the Trans-Tasman there were 50 competitors, then 10 finalists. Apart from the numbers, in terms of the judging criteria, it's all the same. The other dimension is that the Trans-Tasman is the crème de la crème, so the standard was very very high.
Q. What kinds of strategies did the Trans-Tasman finalists use to successfully communicate their research and engage the audience?
A. I think one is stage management. Obviously everyone knew their stuff; but how you manage the stage is pivotal. Also, the flow and logic in your presentation is very important. I also discovered that the judges really focus on the rationale and benefits of the research. They want something tangible; something with evidence. You need to communicate the benefits of your research in a very eloquent manner.
Q. Can you give an example of a presentation you found memorable? Why did it stand out?
A. There was a guy from Victoria University [Robert Michael; watch him here]. He talked about people (often African Americans) who have been languishing in prisons even though they didn't commit a crime. His presentation was very logical. The way he explained his research was eloquent and factual as well. He came from a human rights and social justice point of view, and he also had a strong evidential component.
Q. How did you make the most of your trip to Brisbane?
A. It was my first time in Brisbane. The highlight was going to the Gold Coast. I went with my wife, she was my support person. It was almost like a second honeymoon! We met with friends from Zimbabwe. They invited us into their homes where we had traditional food, and they took us to the beach. It was very beautiful.
Q. What was the highlight of your 3MT experience?
A. Overall for me, I was really inspired. I was motivated. I'm in a new gear. I'm really fired up to make sure that I finish my thesis as soon as possible.
Q. What advice would you give to next year's AUT representative?
A. They must really know their stuff. They must also study the judging criteria. Make sure you cover all the areas: the topic, the methodology, the significance, the results, and so on. Also, people must really practice in terms of stage management. The slide is very important. It must not be too busy or too empty. If you have a glance at your slide, it must be able to tell your story and link to your presentation. There is no need to include your title; they introduce you.
Q. Any final thoughts?
A. I want to thank the university for their support, particularly Martin, Annalise, and Annette at the Postgraduate Centre. I also want to thank my supervisory team: Associate Professor Camille Nakhid, Dr Carol Neill, and Professor Ian Shirley. Finally, I also want to thank the AUT postgraduate ethnic students' group. For me, this award is not for me, it's for the group.
If you would like to compete in the 3MT competition in 2016, keep an eye out for competition details around July / August.