Ah, the international academic conference. Home to heavy-hitting scholars, catering spreads of varying quality, and intimidated postgrad students giving their first major presentations.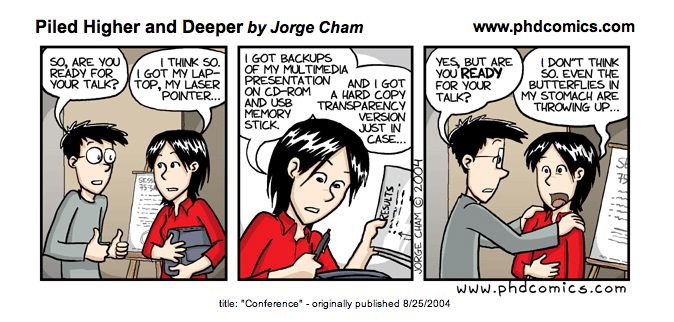 When I went to my first international conference, I knew there would be hundreds of delegates attending. Some of them were among the top experts in my field. One or two of them could be my thesis examiners. The stakes were high, and my confidence was low. I was pleased to find, however, that the hundreds I was expecting for my talk whittled down to a manageable twenty or so once people filtered out into their separate sessions. Plus the questions afterward were generally helpful, if occasionally long-winded. The experience wasn't nearly as harsh as I had feared.
It helped – a lot – that I had given short talks at local events before hitting the international conference scene. I had 'rehearsed' my subject matter, met and picked the brains of local colleagues, and gotten accustomed to the format of conferences and symposia. By the time I started attending international conferences, I was used to the sound of my own voice in a microphone, and I was able to appear as a rational adult scholar rather than the crumbling assemblage of patched-together notes and nervous energy that I would have been without prior practise.
If you're based at AUT, there are lots of opportunities to present your work locally. All doctoral students give a presentation as part of their PGR9 process, plus there are always symposia and conferences happening around the University. August, for example, is jam-packed with events:
You can deliver a poster, oral presentation, or creative exhibition at the PG Symposium on 18 August – submit your abstract to postgraduate.centre@aut.ac.nz (using the form at the link above) by 30 June.
You can compete at the 3 Minute Thesis competition during PG Week (heats on 1-4 August, finals on 17-18 August). Applications close 15 July, and there is a workshop on 19 July that can help you prepare your three minute talk.
There's a Gender and Diversity Research Seminar on 30 August – send a 300-500 word abstract to gdresear@aut.ac.nz by 29 July if you're interested in presenting there.
Even if you're not gearing up for a conference presentation, these types of events are a great way to get out of the office, hear about others' research, and keep your presentation skills sharp. Have a go! There's nothing to lose, and plenty of free food to gain.