This week, in the lead-up to the AUT Postgraduate Research Symposium on Friday, we are putting the spotlight on some of the talented and hard-working researchers who will present their work at the Symposium. Keep an eye out for more stories about our AUT research students throughout the week!
---
Mulisa Senbeta Debala is one of those researchers whose background gives them the perfect tools for their work.
He is a health promoter, a trained political scientist, and a former refugee. His professional experience with Doctors Without Borders and the K'aute Pasifika Trust gave him first-hand experience witnessing how people make decisions about their family's health. His background in political science gave him insights into the wider social and political factors influencing these decisions. And his personal experience as a refugee connected him with communities going through huge upheaval and facing health decisions in an unfamiliar context.
These three strands of experience led Mulisa to his Masters research topic. "In my previous job, in the country of asylum (Egypt), I used to come across refugee families who feared, delayed and refused children's vaccines. Since then, I have been curious about the perspectives of refugee parents on childhood vaccines."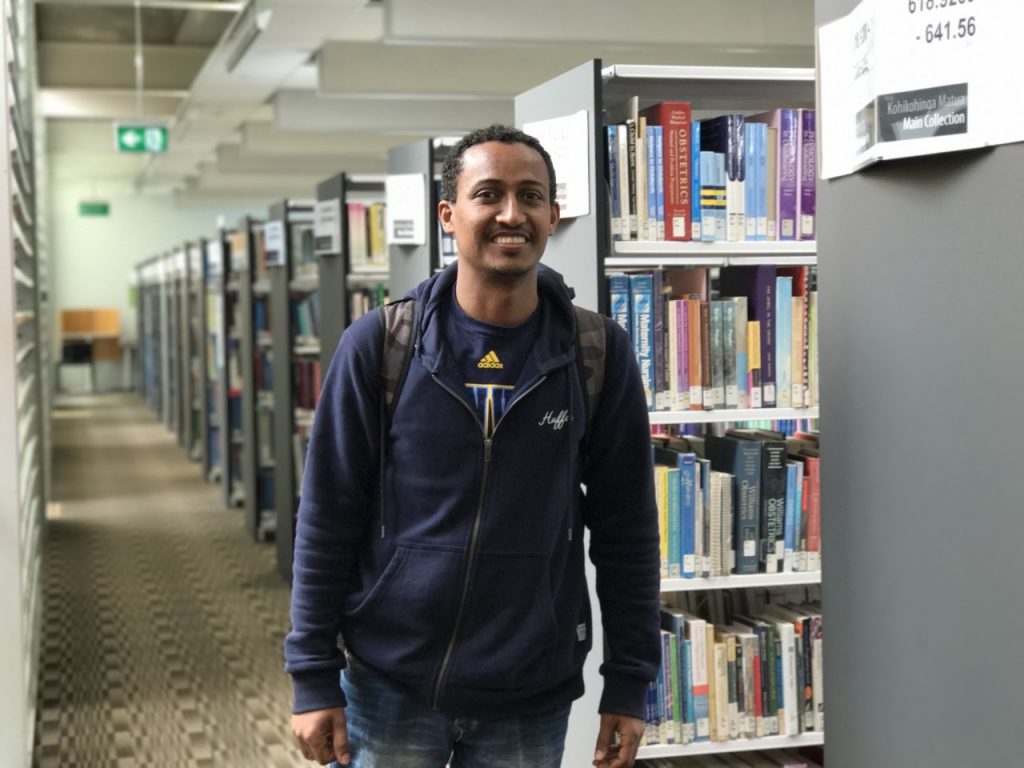 This research is, of course, incredibly topical. "Although this study was about routine immunisation, I do believe the findings of the research might also provide an insight for the present and future mass immunisations including the COVID-19 vaccine uptake," Mulisa says. But the pandemic made the research challenging from a practical perspective: "I have started my research journey during the 2020 COVID-19 lockdown and completed it during the 2021 lockdown. Indeed, it was challenging time for me like any other students."
One of Mulisa's initial challenges was funding the research. "Conducting research requires a great deal of money… to be honest, my budgeting was not well-planned at the proposal stage, but thankfully, I found a scholarship through my supervisor, Dr. Nadia Charania."
With funding in place, and despite the challenges of multiple lockdowns, Mulisa managed to recruit 178 former refugee participants. He found that vaccine hesitancy was lower among former refugees than other New Zealanders. But for those who were vaccine-hesitant, their main concerns were side effects and the safety and efficacy of vaccines. Mulisa is now able to make recommendations about how to tailor vaccine information to address the needs of former refugee families.
For Mulisa, this research is professionally exciting. He is looking forward to stepping up in his health promotion career, and perhaps even pursuing a PhD. But this is also personal: "conducting research on a health issue in my own community feels like I contributed to my own community." He sees this personal connection as an asset: "a researcher's personal motivation can contribute to producing high-quality research. Therefore, it is very important for students to choose a topic they are passionate about."
---
You can find out more about Mulisa's research at the AUT Postgraduate Research Symposium this Friday. His poster will be on display throughout the Symposium, and he will be available to answer questions during the lunchtime poster session from 12:05 – 1:35pm (tune in around 1:20pm for Mulisa's timeslot). Register here.