Asia-savvy 2013 Conference
The New Zealand Asia Institute is proud to announce this year's Asia-savvy 2013 Conference – "Embracing Asia: Building New Zealand" This student-led conference aims to bring together 100 current undergraduate and postgraduate Asia-savvy university students, providing an excellent forum for networking. The conference is conceived and organised by students, mainly from the University of Auckland, who care about Asia within New Zealand and about New Zealand's future with Asia.
The conference has three sub-themes on Leadership, Business and Culture provides the opportunity for lively debate and discussions by students and experts with interests in Asia, and will result in publication of a collection of student essays from the conference.
To register:  http://www.asia-savvy.com/Register.aspx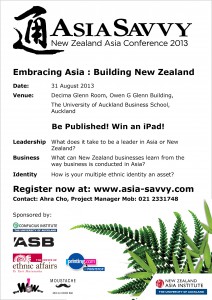 6th Annual Postgraduate Symposium
Tuesday 28 August, 2012
AUT University
The University Postgraduate Centre is inviting research student participation for the 6th annual Postgraduate Symposium event   If you are looking for an opportunity to present your research in front of your research peers, then the Postgraduate Symposium is the time to do it!   We are calling for papers by Friday 13 July, 2012.  
You can explore but not be limited by the following themes:
developments within your research
possible global initiatives
challenging aspects of your research and if so, how have you overcome them?
collaboration with other researchers, public and private sector organisations, community groups?
If you feel your research is 'cutting edge' and want to share it with us then we want to hear from you.
More information can be viewed by clicking on this link.
Postgraduate Expo – August 2012
Postgraduate expo runs from 20th – 31stAugust 2012 and offers a range of postgraduate activities that includes academic and computer based sessions, career focussed workshops, social events and a Postgraduate Symposium that includes postgraduate research presentations.
Will provide a more informative programme schedule of events soon!
Supportive Workshops 
It might be timely for you to find out what postgraduate workshops are being advertised through the online registration system – CareerHub!
If you are getting ready for your oral examination, then you may want to attend the workshop on 'Preparing for the oral examination'.   The information beforehand is advantageous and helps prepare you on the day.    Uncertain about plagiarising an author in your thesis?  Check out the workshop on 'Citing sources and avoid plagiarising' – there is indepth information on how to reference correctly.
Find out what else you can attend by registering for workshops online through CareerHub.   You won't be disappointed!