Author: Julia Hallas, Doctoral Candidate

If you're experiencing procrastination, depression, all-nighters and melt-downs… join me in my quest for the best writing tips.
My desk has been piling up with stuff – articles, books, bits of paper I 'think' I really need. Drafts, notes, diagrams, photocopies and sketches of my research. My rule is to only enter references and attachments into EndNote that I will use. So the problem is all the stuff that I don't want to put into EndNote – just yet. There's a lot of stuff on my desk that looks interesting, that I might want to use, or that I want to keep on hand – just in case. This indecision or inability to know what to do with it all is causing me stress. It is also at odds with my previous post about having a dedicated writing space. I did mention in that post that the space should be organised. The problem was that I hadn't tackled the issue of organising effectively.
How can you organise your dissertation stuff effectively so that you can find it again efficiently?
Part of doing a PhD is learning to organise yourself, your tools and the literature you will use for your research. It's been worrying me – how to organise all this stuff so I can find it when I need it. I'd been feeling a bit of a failure… until I learned about the April Boxes.
I was reading Robert E Stake's – Qualitative research book (downloaded from the AUT Library to my iPad Bluefire App) ignoring the mess around me, until I hit on these words of wisdom from Stake about April Boxes. He explained how a visiting lecturer called April Munson had told his class how the boxes changed her research from being overwhelming to doable. The idea is that you identify and use the headings from information domains, research steps, topic concepts or your literature review. Whatever works for you. Draw a table on a large sheet of paper or create a table in Google docs like I did and fill it in. For example:
In all I had nine boxes. Each heading was a topic in my literature review with concepts to discuss underneath. I also included a box headed Methodology, and one called Training – for those tips I find on writing, database searching, etc.
The next step is to get a box file for each heading and label them. Then I picked up every piece of paper on my desk and filed it into the correct box file. I couldn't believe it was so easy. I didn't have to think twice about what went where. Every item had a box waiting for it. Within 10 minutes, my desk was clear.
Feeling successful, I moved onto my Drop box – dropbox.com – an app for storing your files in the cloud. I cleaned up my messy PhD folder, by creating subfolders for each heading from the April boxes. Then I moved all my soft copies into the folders. Today I'm all organised, everything can be found easily and I have a place for all those bits and pieces I expect to pick up along the way.

The real test came two days later when I came across a page of data gathering questions from a conference I attended recently. The presenter had asked us to complete the questions and hand them to her for her research project. Unfortunately I forgot to give them to her! But I decided to keep the questions because I want to analyse how she developed them. Where should I put this paper? I created a new box file called Data Gathering. Then I added to the box some notes I had taken on data gathering from an AUT Postgraduate Round Table session I had recently attended. It's working!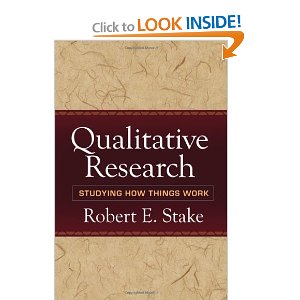 Today I have a dedicated work space and it's organised. So far so good. Next post, I am going to tackle my biggest problem yet – procrastinating when I should be writing!
By the way, Stake's book on qualitative research was so good, I've ordered it from Amazon.
Reference
Stake, R. E. (2010). Qualitative research: Studying how things work. New York: The Guilford Press.