By Julia Hallas
Here's a handy formatting tip.
When I started preparing my interviews for analysis, I had no idea how to add a number at the start of each line. I don't know if it's easy on a PC, but how to do this is not obvious when you use MSWord on a Mac.
Because I interviewed 16 participants for my PhD, I had 16 transcripts to prepare for analysis. As I didn't know how to go about adding line numbers the easy way, I wasted hours numbering lines manually. Then I had the good fortune to speak to Richard Johns at IT Support Services. I explained to him what I wanted to do, and he said that he would investigate for me. About a week later, Richard sent me a link which explained how to do this in a few simple steps. Like magic, I've saved hours of time. Thank you, Richard.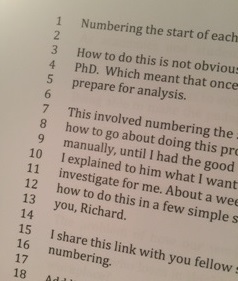 Just in case you need it, here is the link. It is for a PC, but you can easily translate for the Mac. Happy magic numbering.
https://support.office.com/en-ca/article/Add-or-remove-line-numbers-b67cd35e-422c-42eb-adc9-256ca9802e22