Did you know that the internet was created by academics? It was designed for use at universities, so that scholars all over the world could share information. Of course back then, it was quite basic. The first ever "internet" communication was sent from UCLA to Stanford in 1969 on a network called the ARPANET. The UCLA folks managed to send two whole letters of text before the system crashed.
As the young internet developed, scholars communicated via message boards and mailing lists. They formed groups called listservs (electronic mailing lists) based on shared fields of research. Those of us who were online in the 90s will remember listservs – you sign up with your email address, and then you get emails containing news & resources from other members. Generally there's some kind of online archive of postings as well.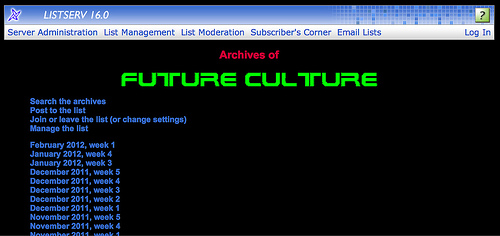 They may seem a little old-fashioned, but listservs remain very common in niche research areas. These days, many have evolved and are now more like web communities of researchers. They're a great way to connect with other researchers in your field and find out about conferences, publication opportunities, and new research projects. It's like networking, but without the awkward social chit-chat.
Plus there are often major research stars on these listservs. It's quite a thrill to open your email and find a message from an academic celebrity. (I got a listserv message from an academic superstar when I first signed up to a listserv. In my surprise, I yelled "SHUT. UP." at my computer screen. I was in a shared office at the time. It was embarrassing.)
Finding a listserv
You can find a listserv that's relevant to your field by searching the catalogues at L-Soft, the company that provides the most common listserv software.
If you're in the humanities or social sciences, browse around at H-Net. There are hundreds of listservs there for broad subjects like art history and sexuality, right through to specialised research areas like quilting and architectural stained glass. There's one for History of Aotearoa topics as well! (We have to share a list with Australia, but NZ gets top billing.)
There are also listserv communities for all sorts of other disciplines. If you can name a field, you can probably google "[field] + listserv" and find something. Find your favourite and tell us in the comments below!