As Postgraduate Week draws to a close, here's a big THANK YOU to everyone who presented their research, competed at 3MT, contributed a poster, attended a workshop, sat on a panel, or in any other way participated in the week. We really appreciate your enthusiasm and we love hearing about your research!
Today's Symposium has been full of exciting highlights. We got to hear Professor Welby Ings talk about disruption in his keynote; he pointed out some of the challenges that many of us face in our research, and talked about how everyone feels like a fraud sometimes. He emphasised that research is not stable, and is never really finished. Rather, it is a process that continually shapes us, and hopefully – if we are generous and passionate scholars – it betters us too.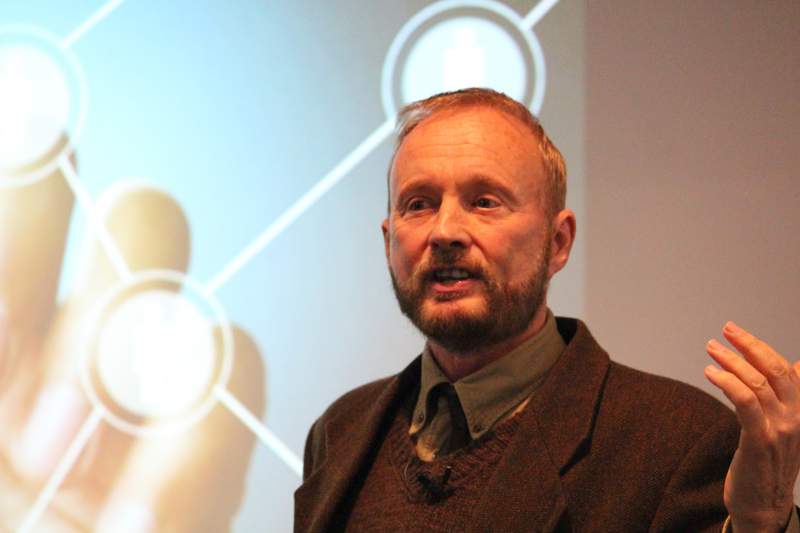 Professor Welby Ings delivers his keynote address
We were then spoilt for choice with 44 research presentations and 9 posters competing for our attention. The topics were incredibly varied. I spoke with poster presenter Kate Agnoli about her doctoral fieldwork in Antarctica, collecting and analysing air samples to track the aerial transport of microbes from South America and nearby islands. I listened to a talk by Siona Fernandes, whose research follows Indian families with different approaches to sport and physical activity in New Zealand. I watched Don Chooi's filmed graphic novel, which beautifully and honestly explores his identity as an Asian gay man. I heard all about Ghada Zidan's innovative 3D-printed bandage, which overcomes some of the problems and inefficiencies associated with the current method of healing corneal wounds.
Presenters and posters at the 2017 PG Symposium
The presentations this year have been outstanding, and we will feature a full range of photographs on the AUT website and on Thesislink social media next week. We will also feature results from the 3MT competition finals, which are on at 3:10pm this afternoon.
But for now, I will repeat: THANK YOU! Your research has inspired us, challenged us, and made us think. We will go away tonight intellectually stimulated, sated, and thoroughly fascinated.