The theme for the rest of PG Week is 'Connecting,' and of course tomorrow we will all connect at the major events of the PG year – the Postgraduate Symposium and 3 Minute Thesis finals. But today, I enjoyed a stimulating conversation about another form of connection – the one we share with our participants.
The "Critical Methodologies for Gender & Diversity Research" event featured a panel discussion with students and graduates who have undertaken research through the Gender & Diversity Research Group.
Dr Karenina Sumeo recently completed her PhD looking at land access issues for women, fa'afafine (Samoan transgender women), and fakaleitī (Tongan transgender women) in Tonga and Samoa. Lisa Amoa wrote her Masters thesis on career progression for Pacific people who work in universities. Lucia Davis has submitted her PhD thesis on interethnic mothering; where the mother and father of a child are of different ethnicities. Each of the panellists talked about how they chose their methodology, and how they interacted with their participants to serve both their research, and their participants' interests.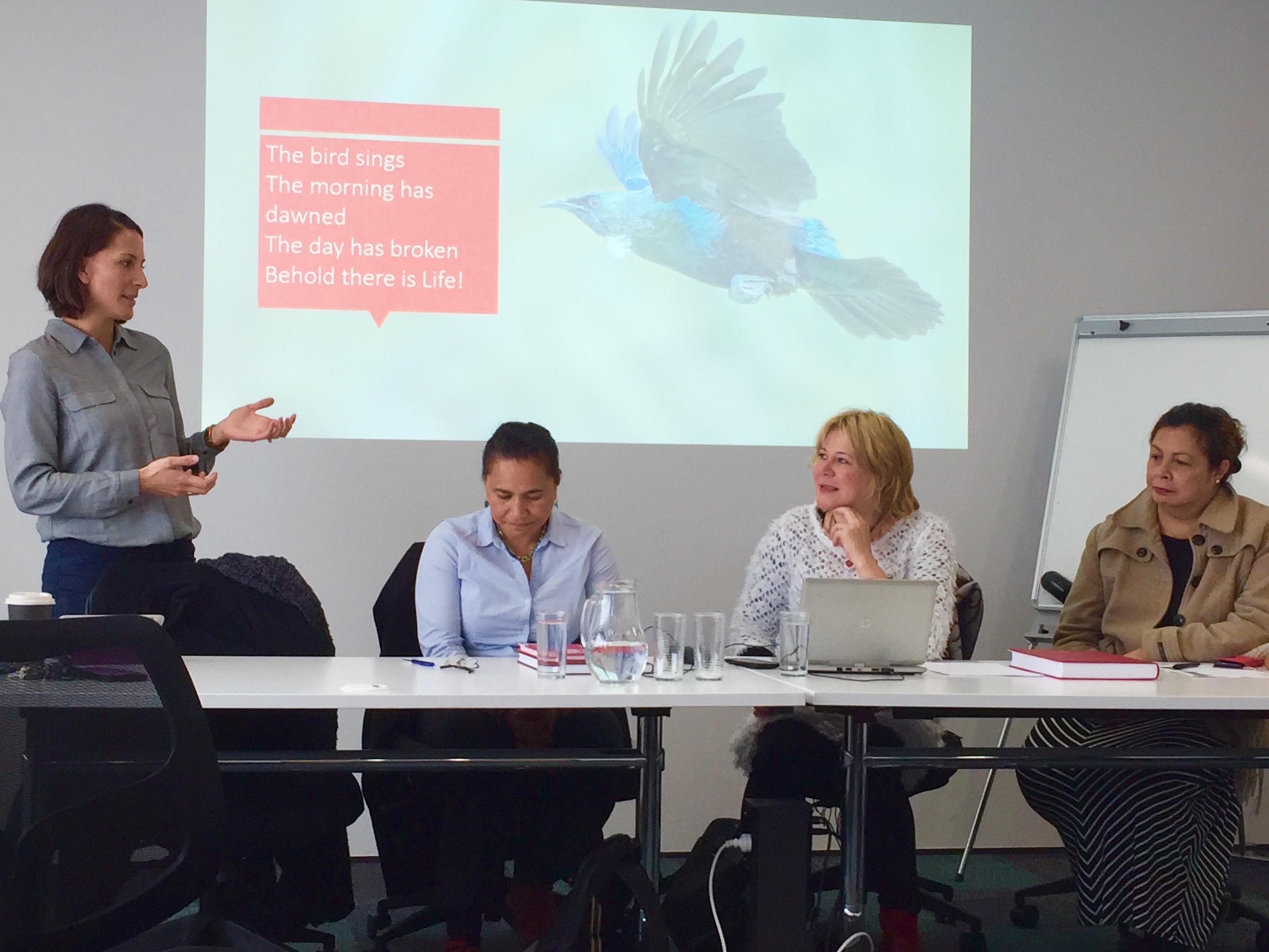 L-R: Facilitator Dr Nimbus Staniland with panellists Dr Karenina Sumeo, Lucia Davis, and Lisa Amoa
Lisa talked about the Pacific method of Talanoa, which is a form of research via conversation. Talanoa research prioritises the relationship between researcher and participant. As a researcher, Lisa said that she did not expect direct answers to her questions; rather, she allowed participants to tell their stories in their own words, taking as much time as they needed. She also focused on building a relationship with each participant before asking questions. She would offer some form of hospitality – a coffee and muffin perhaps – and talk about family, church, and life in general until the participant was comfortable. She would also hold back on note-taking, because she noticed that her participants would clam up if she formalised the conversation in that way.
Lucia had considered several different methodologies before settling on one. Like Goldilocks at the bears' breakfast table, she noticed that each methodology she considered had something not-quite-right. Ethnography promised to recognise her female participants' varied cultural differences, but could not adequately deal with the power dynamics in their relationships. Foucauldian discourse analysis could deal with power structures, but at the expense of the richness of the womens' stories. Ultimately, Lucia tried narrative enquiry – and found that it was just right.
Karenina also made use of the principles of Talanoa research; though she had many other considerations when customising her research methodology. She worked with female participants, and viewed their stories through a feminist lens. Because some of her participants were fa'afafine and fakaleitī, Karenina also considered incorporating queer theory into her framework. She decided against it after finding no evidence in the literature that gender identity was a factor in land access. However, her fieldwork showed that gender identity was relevant – proving that it can be hard to choose the right methodology before you know exactly what kind of data you will be working with!
One commonality that came through strongly in the discussion was a sense of care for participants. Lisa stressed that you have to give something back to participants, in a way that will be beneficial for them. She plans to present her findings to her participants so that they can see how their experiences and stories relate to those of others. Karenina is also gifting copies of her thesis to those who assisted in the research, and she made a point of writing in clear, jargon-free language so that her work would be accessible to her non-academic participants.
Each of the panellists was also attuned to nuance. Lucia pointed out that ethnicity is often treated as a matter of stable categories, where in fact it is more complex. She told us that, coming from Romania, she often has to tick the 'Other' box on forms to describe her ethnicity; and such reductive categorisations are even less helpful for her Romanian-Maori son. Karenina talked about the nuance within the category of 'Pacific' – she approached her Samoan and Tongan participants differently, because, for example, Tonga has a class system that does not exist in Samoa. She also could not take the experience of fa'afafine to be representative of the experience of fakaleitī, and vice versa. Lucia found that, even when interviewing two mothers from Hungary, their experiences of mothering in Hungary were vastly different. In diversity research, the panellists agreed, there are differences between groups; but there are also differences within groups.
The panellists talked about the tension between using highly personal and individual stories in research, and applying that research. Are the findings of such research valid if they are not universal? Lucia made the excellent point that narrative accounts are not representative of a 'whole,' but that doesn't mean they aren't valid. One member of a group can never speak for all members; but by hearing a range of individual stories, we can start to approach a deep understanding of the group that goes beyond simple stereotypes.
Thanks to the Gender & Diversity Research Group for organising such a fascinating discussion!
What's coming up tomorrow?
PG Week is set to go out with a bang. Come along from 9am for the PG Symposium, where over 50 postgrad students will showcase their research through oral presentations, posters, and creative exhibitions. The day starts at 9am with a keynote address from Professor Welby Ings, noted filmmaker, graphic designer, and academic. We will then enjoy themed morning and afternoon presentations from students; capped off with the finals of the 3 Minute Thesis from 3:10pm. We'll have time to digest all that research with the help of wine and nibbles from 4:30pm. Check out the programme for full details. See you there!