If you are deep in thesis-writing mode, you are probably dreaming of the moment you don your robe and hat for that glorious march across the stage to receive your diploma. But what will you wear, and why do we have such strong traditions about graduation regalia anyway?
In New Zealand, our traditional academic regalia comes from the style used in English universities like Cambridge and Oxford. They, in turn, have kept the tradition from their early religious roots. In the 13th Century, the Archbishop of Canterbury ordered all clerics within his jurisdiction – including the scholars of Oxford and Cambridge universities – to wear a gown called a 'cappa clausa' (closed cape). It was a practical decision. Many learned and studied in cold halls and churches, and the heavy gowns (plus hoods or caps) were a source of warmth.
Of course in these days of heaters and air conditioning, we limit our use of academic regalia mainly to graduation ceremonies (and sometimes other formal occasions). But despite the passing centuries, the old cap-and-gown formula still holds, with a few updates and international variations. When American universities formally adopted academic regalia in 1895, they instituted their own tradition of modifying the colours and styles to distinguish between universities. In Indonesia, Bachelors and Masters graduates get to wear a unique pentagonal mortarboard hat. In Spain, some doctoral graduates wear white gloves and special rings. French professors sometimes get to add a sword to their regalia after 20 years' service!
You'll have seen on TV and in movies that graduates from American universities all wear their gowns closed. In New Zealand, as in Australia and the UK, we wear our gowns open. In the past this is because everyone wearing academic dress would have been wearing 'sub fusc' (a kind of formal clothing), a religious cassock, or military uniform. These would have kept you warm enough without needing to close the gown. Most modern graduands wear something smart but comfortable underneath their regalia. The open gowns allow your personal style to show through!
Here's a little more detail on AUT's graduation regalia.
Postgrads will remember their Bachelors robe and trencher (the classic tasselled hat) with a coloured hood to indicate the area of study. The Bachelors robe has a bat-wing sleeve, and the trencher is plain black. The AUT Bachelors hood has a simple satin lining, but you might notice that other universities have fur on the edge of their Bachelors hoods. Legend has it that this is because, in the early days of academic robes, the senior (highly educated) scholars got the bests seats by the fire – so it was the junior (less educated) scholars who needed fur!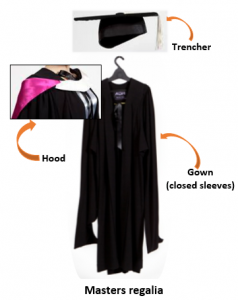 At Masters level, the formula is much the same – but your robe and trencher are a little different. The Masters robe has closed oblong sleeves with an opening at the wrists for your hands to slip through. At AUT, our Masters trencher has a bone-coloured tassel.
If you're graduating with a PhD, you'll wear a doctoral robe, hood, and bonnet. The doctoral robe has the same closed sleeves as the Masters robe, with the addition of coloured panels down the front. The bonnet (also known as the 'Tudor bonnet') is a luxurious and Harry Potter-esque velvet puffed cap with a gold tassel looped around and hanging down. You might notice that doctoral graduands have a different shaped hood to other AUT graduands. Bachelors and Masters hoods at AUT are a special AUT design, based on the Oxford hood, similar to those worn in Australia. The AUT doctoral hood is a Cambridge full hood, similar to those worn at the other New Zealand universities.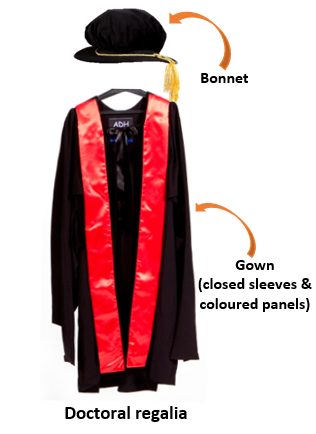 Other doctoral degrees (Doctor of Education; Doctor of Health Science) can have slight variations in their doctoral regalia.
You can find out which regalia colours you will wear by checking your qualification here.
In New Zealand, many graduands wear something extra that is special within their culture. Some people wear a korowai (Maori cloak), which is reserved for honoured people in Maori culture. Some wear a garland like a Samoan 'ula, Tongan kahoa, Fijian salusalu, or Cook Islands 'ei (necklace). Some also wear special tapestries or head wreaths.
No matter what you're wearing, your regalia represents the esteemed tradition of academic study and the honoured position you hold as a graduate. So wear it proudly!
Regalia images provided courtesy of Academic Dress Hire, who offer AUT's regalia for hire and sale. Our regalia is manufactured by Etude Classique, who also offer pieces for sale.