As you may be aware, we have some great events coming up on Friday 17 August where research students can present their research and win prizes. The deadline to enter both of these events is next Friday 22 June, so get your entries in!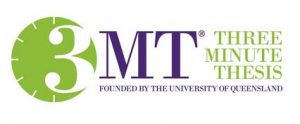 3 Minute Thesis
AUT Masters and doctoral students from all disciplines are invited to enter the 3 Minute Thesis competition.
The 3MT competition, as it is known for short, is all about communicating your research in a way that is compelling, succinct, exciting, and easy to understand. You'll have just 3 minutes and one slide to let the audience know what your research is all about, and why it is important.
Past AUT 3MT award-winners have presented their research on such diverse topics as mangroves, screenwriting, motherhood, diabetes, the sharing economy, sports biomechanics, employment, and engineering surgical implants.
To enter this year's competition, you'll need to fill out the entry form (available for download here) and submit it to the Graduate Research School by 22 June. You'll compete in heats, and if you make it through to the finals, you'll present your research at the 3MT event on 17 August. The ultimate AUT winners will win a trip to the NZ finals (Masters) or the Asia-Pacific finals in Brisbane (doctoral).
For more details, including eligibility, rules & judging criteria, click here.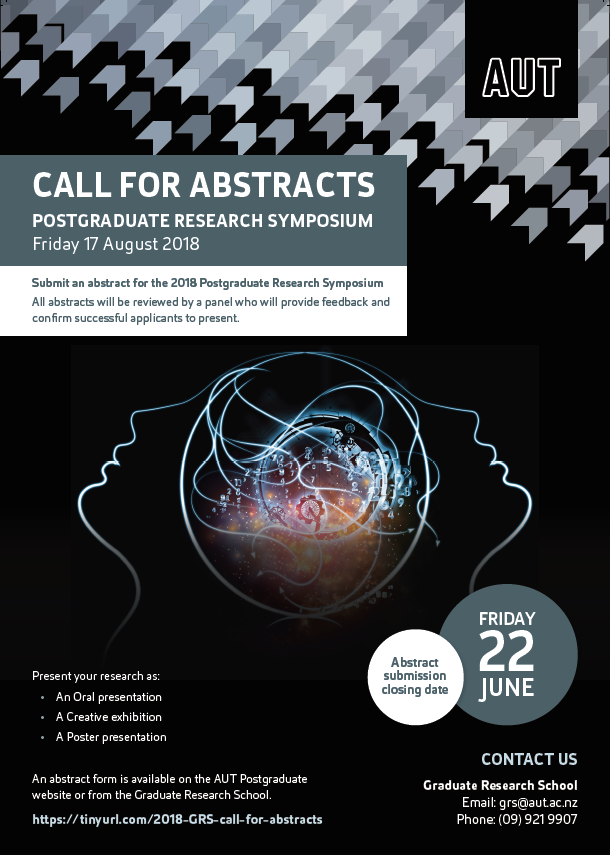 Postgraduate Research Symposium
The AUT Postgraduate Research Symposium is our showcase event for the year. Here, research students will present their work in oral presentations, poster displays, and creative exhibitions.
The process for entering the Symposium is quite similar to the process for applying to an academic conference. You'll need to submit an abstract for your presentation. The abstract will be reviewed by our team of academics, and you'll have an opportunity to get feedback and revise. The finished abstracts will be published in the Symposium booklet, which of course you can note in your CV!
Find more details about the Symposium here. If you want to enter, you can view the call for abstracts here, or download the entry form.
If you would like some help preparing for either of these events, come along to our workshops. Click the links to book online: