Three minutes is not a lot of time. It's just enough to: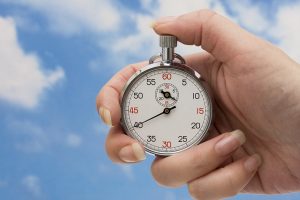 brush your teeth
boil an extremely runny egg
scan all the reality TV-related headlines in the NZ Herald
shower (basics only, no hair removal or shampoo-mohawks)
win a free trip to Christchurch or Brisbane
We'll get back to that last one in a minute.
But first: you may have noticed that a lot of public speaking events focus on a 3-minute timeframe. The famous 3 Minute Thesis competition asks you to present your research in 3 minutes with one slide; the Falling Walls competition requires a 3 minute talk; and even TED talks has a whole 3 minute category.
Why 3 minutes? What's so special about that number?
A 2010 study asked students in chemistry lectures to click a button when they experienced a lapse in attention. The researchers found a spike of lapses just 30 seconds into the lecture; then another spike at around 5 minutes; another at 7-9; and so on throughout the lecture until the end, when lapses occurred approximately every 2 minutes (Bunce, Flens, & Neiles, 2010).
Postgraduate research tends to be complex, detailed, and specialised. However, human attention spans are not generally receptive to complex, detailed, and specialised things. In its complex and detailed form, your research will appeal to a specialised audience. But if you want to appeal more widely, you'll need to be strategic in the way you communicate.
A 3 minute presentation will not be appropriate for every scenario, but if you want to avoid audience attention lapses and make a punchy impact, it's a useful target.
If you can master the art of communicating your research in just 3 minutes, you'll be able to make its value clear to a wide range of people outside your immediate field. That's a useful skill to have in all sorts of scenarios – professional networking functions, family reunions, job interviews, first dates, the list goes on.
We're gearing up for our 3 Minute Thesis competition, and AUT Masters and doctoral students are invited to enter. The winners will receive a trip to the NZ finals in Christchurch (Masters) or the Asia-Pacific finals in Brisbane (doctoral). But you'll have to be quick – entries close tomorrow, Friday 22 June. Download your 3MT 2018 entry form here.
You can also hone your 3 minute pitch at the New Zealand Falling Walls competition. Entries for that also close tomorrow; find more details at the Royal Society website.
Reference
Bunce, D. M., Flens, E. A., & Neiles, K. Y. (2010). How long can students pay attention in class? A study of student attention decline using clickers. Journal of Chemical Education, 87(12), 1438-1443.