Last Friday, we had a fantabulous day at the AUT Postgraduate Research Symposium. Keep an eye out for photos and news from the Symposium later on Thesislink. But for now, we want to share our 3MT results!
The day of the Symposium ended with the AUT 3 Minute Thesis finals. Seven doctoral students competed after progressing from the heats, which were held in July. The finalists had just three minutes each, and one PowerPoint slide, to communicate their complex projects to a huge crowd of research fans.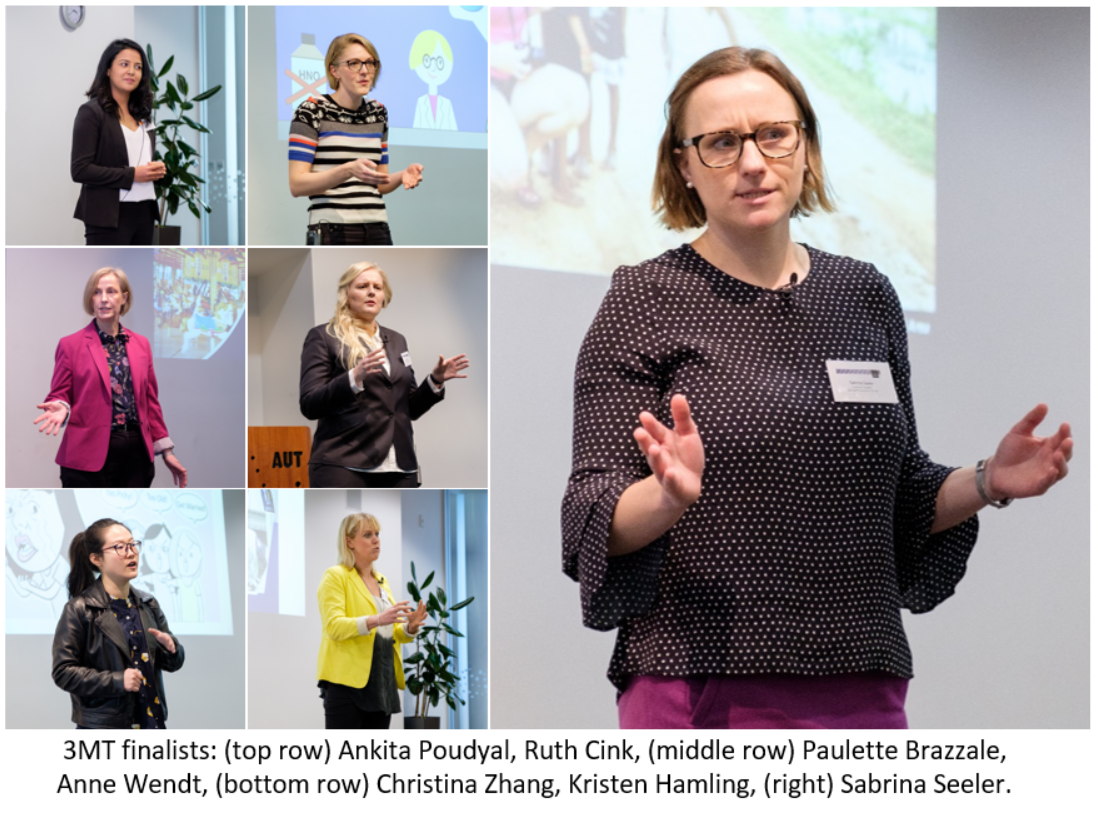 Ankita Poudyal kicked things off with an account of her research into nanofibre coatings for air filters. Usually, she told us, air filters are either thin (capturing fewer pollutants) or multi-layered (capturing more pollutants, but limiting air flow). Ankita is helping to overcome this trade-off by researching the use of nanofibre coatings to trap more pollutants without compromising air flow.
Ruth Cink was next to speak, and she explained how her research could help to generate the molecule HNO. HNO may have important applications in heart medications; but because it reacts with itself, it is difficult to store. Ruth is working on ways to generate HNO using light. This could improve chemists' ability to study HNO, paving the way for potential new medications for heart patients.
Paulette Brazzale used her 3 minutes to tell us about her research into the experience of organisational change at work. She surveyed workers and found that change is a normal and common part of the working experience. Paulette used the metaphor of a merry-go-round to describe change at work ("sometimes you're up, sometimes you're down, sometimes you get off").
Sabrina Seeler talked about being 'bitten' by the travel bug. Her personal experience of falling in love with travel in Laos inspired her to conduct research on the phenomenon of the 'experienced tourist.' Who are these tourists, what motivates them, and what is really going on for the individual as they accumulate travel experiences?
Anne Wendt explained how communicating with a deaf friend inspired her research on artificial intelligence in language processing. Using the brain's method of audio-visual processing as inspiration, Anne is working on improving the way that computers process language; which could ultimately contribute to new translation systems using AI.
Christina Zhang introduced us to the phenomenon of 'leftover women' in China; those who are stigmatised for being unmarried in their late twenties and beyond. Christina's research gives voice to these women, and finds that their identity is not tied to their marital status. They are highly educated, highly paid, and making their own way in the world.
Kristen Hamling gave the final talk, explaining her research on the 'everyday heroes' in first responder roles (firefighters, police officers, and ambulance officers). First responders' jobs put them at high risk for many health and social problems. Kristen is conducting research on the wellbeing of first responders, and how they can be best supported to stay healthy and well at work.
After each finalist gave their presentation, the judges went away to deliberate. Meanwhile, the audience cast their votes for their favourite presentation. And the winners are…
Christina Zhang for 3MT runner-up
Sabrina Seeler for both 3MT winner and audience favourite!
Sabrina will travel (which is apt, given her research topic!) to the University of Queensland to represent AUT at the Asia-Pacific 3MT Finals. Good luck Sabrina!
Congratulations to Sabrina, Christina, and all the 3MT finalists and entrants for your achievements and hard work. The presentations may only last 3 minutes, but they take many hours to prepare and practice. We love hearing about your research and we appreciate the amount of effort you put into the competition!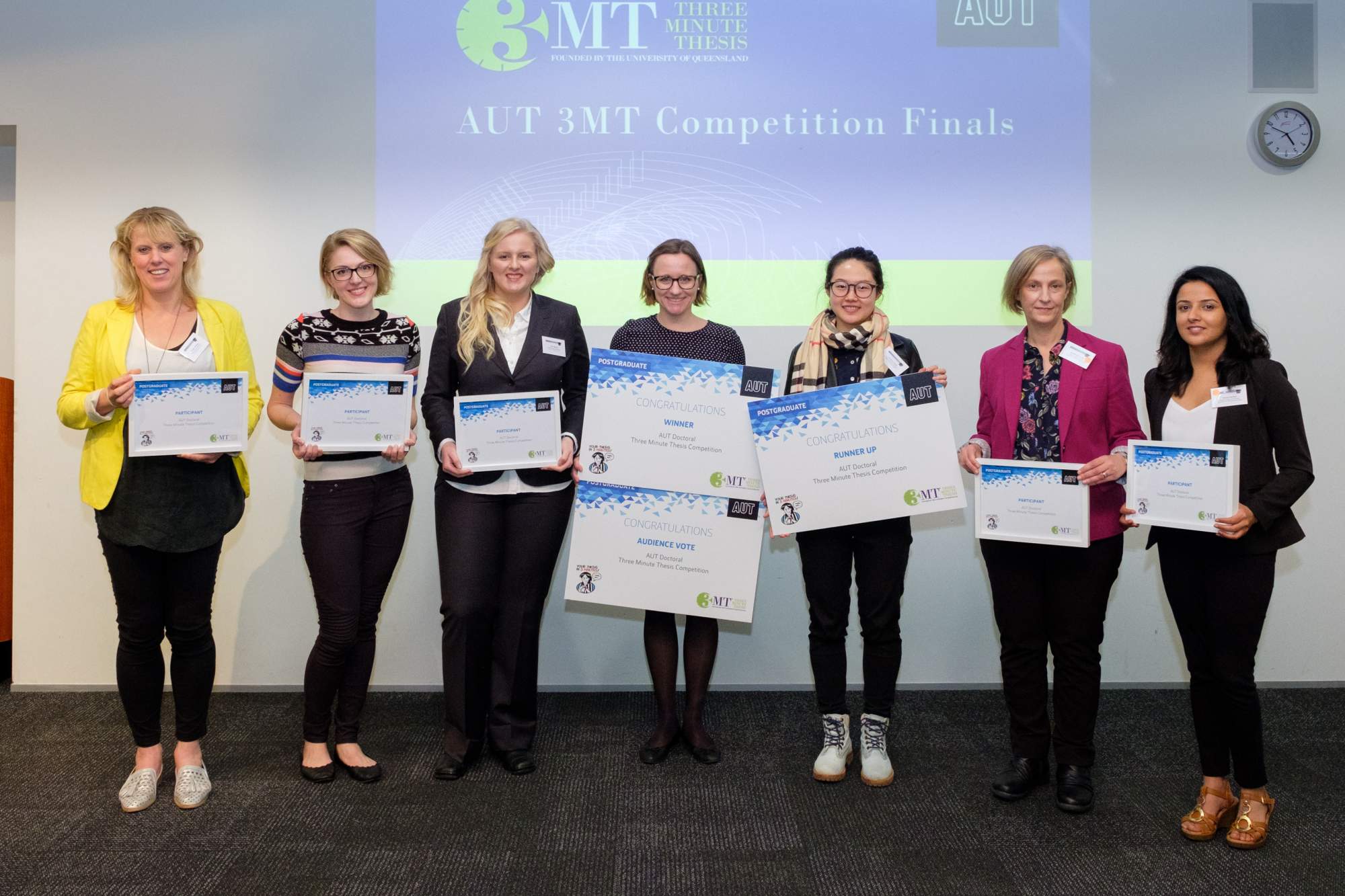 This event was sponsored by AUT Shop, AUT Sport & Fitness Centres, AUTSA, ICT and supplier partner Cyclone, and Piko.