We are so excited to report that AUT's own Livvy Mitchell won first prize last night at the 2019 Three Minute Thesis New Zealand Inter-University Master's Final! The competition, hosted at the University of Otago in Dunedin, featured the 3MT Masters winners from each of New Zealand's participating universities. Livvy's talk entitled 'Home Detention: Couch surfing or job preserving?' so impressed the judges that she took home first prize and a $1000 research grant.
Livvy's talk presented the results of her Masters research into home detention in the New Zealand justice system. Perhaps counter-intuitively, Livvy has found that home detention (as compared to incarceration) does not increase offenders' labour market participation, and does not improve recidivism rates. However, it does present cost savings. Livvy's research has the potential to inform the decisions of policymakers in the future.
A few members of the Graduate Research School, in Dunedin for a meeting, were lucky enough to be in the audience to support Livvy and form an AUT cheer section as she took the title.
Following her win, Livvy said: "I just really enjoyed sharing the results of my thesis and being able to hear about, and be inspired by, other students' work. Meeting all the competitors was definitely a highlight, and having the AUT grad school (and my sister) in the crowd was so awesome."
You can watch Livvy's talk at the AUT 3MT finals on our YouTube channel. We will post media from her talk at the New Zealand Inter-University Master's Final as it becomes available.
Congratulations Livvy, what a well-deserved accomplishment!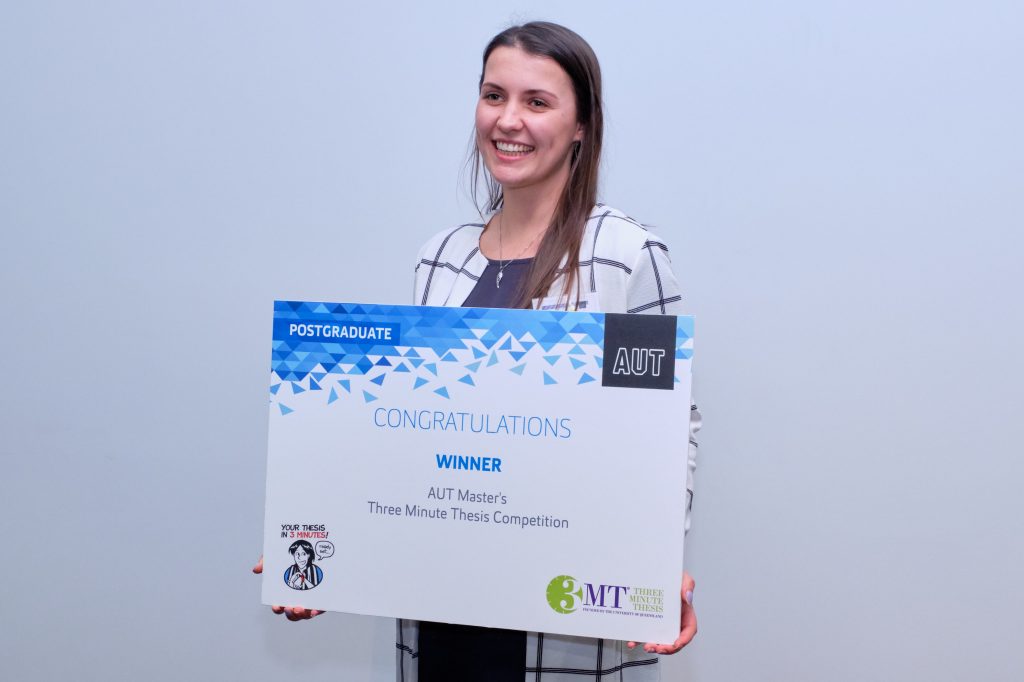 Livvy Mitchell is working toward her Masters in Economics in AUT's Faculty of Business, Economics, and Law. She is supervised by Dr Peer Skov and Professor Gail Pacheco.