Professor Mark Orams, the incoming Dean of the Graduate Research School, gave his thoughts on his new role in conversation with the GRS' Katie Hayward.
Katie: How do you feel about taking on this new role as Dean of the Graduate Research School?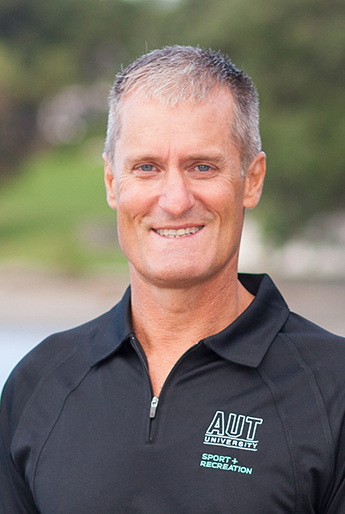 Mark: I feel very honoured and privileged to step into the role. It's a really significant time – 20 years since AUT has become a university. Professor Marion Jones, as the inaugural Dean, has lead the GRS team through an incredibly productive period where we've grown from having our first doctoral student to now having over a thousand students enrolled in doctoral programmes. AUT has come a long way in its first 20 years! So, I'm really looking forward to having the opportunity to continue that good work and to further develop our systems, processes, training and support for our postgraduate research students. It is important that every student that enrols in a postgraduate programme at AUT feels supported, challenged, and that their journey with us is worthy. Most importantly, every postgraduate student should feel that they are valued as a person, and not just as a number.
Katie: What do you bring to the role as Dean of the Graduate Research School?
Mark: The reason I chose an academic career over 25 years ago is because I am passionate about helping people achieve their potential. Universities are amazing places that allow people to do this; to grow and develop as scholars, as researchers, as people. To be involved in that process is exciting and it's a great honour. My philosophy is very student-focused and I bring a real passion for students and my colleagues; academics, professional and support staff. For me, AUT's ethos of "Great Graduates" fits really well with my own personal values about what it means to be an academic and a scholar. The other approach I bring is a very strong sense of being a team player. I really enjoy being somebody who works as part of a high-performing team that works towards achieving worthwhile outcomes. I think the GRS, alongside all of our colleagues across the university, works really hard to try and support people on their journeys. Postgraduate research journeys are unique and often challenging, so it's important that we all work together as a team to support our students and to support one another through those challenges.
Katie: How do you see AUT's growth and contribution to research developing in future?
Mark: One of the things that has always characterised AUT, and it comes from its polytechnic roots, is that a great majority of the research that we do is applied – it's real world research. It's about people exploring areas where an increase in knowledge through research can actually result in a positive change and make a difference in practice, through the way people do things or think about things. I think that is something that AUT will continue to do and it is in some ways quite distinctive. I am delighted that AUT still has so many applied disciplines that sit across the university; whether that's in the area of health, sport, engineering, sciences, or culinary arts. All of those things are really exciting. I love the fact that AUT has been a real leader in the creative arts and practice based research degrees and promoting that scholarly endeavour is not just about STEM [Science, Technology, Engineering and Mathematics] – it's not just about the traditional type of academic disciplines. There are so many new and important ways of increasing our understanding of the world around us. For instance, when I hear about people doing work such as contemporary waiata compositions in Te Reo Māori or into the design of fabrics and how they interact with people's emotional wellbeing in terms of the clothing they wear – I get really excited that AUT is exploring these areas that most universities wouldn't even think about. AUT is leading in that area, and that's exciting!
All worthwhile journeys are difficult ones, and the postgraduate journey is no exception – it's really challenging, but it's a worthy one. It requires not just intellectual ability, but also tenacity, determination and resourcefulness. All of those attributes are really important for us, at AUT, to nurture, to support, and to encourage in one another. So, I would like stress to all our postgraduate students that we understand that what they are doing is not easy, but that's what makes it worthy. So keep at it! Draw strength, knowledge and support from others around you, and continue to grow and develop through your perseverance, tenacity and ability to overcome. My focus is on ensuring that the Graduate Research School and the wider AUT community continue to support and encourage you. I am delighted to be a part of it.