Attention AUT doctoral students! Would you like …
to expand your international network?
to have exceptional doctoral experiences?
to learn different technological tools for academic/research practice?
Then, why not join us for the newly launched 23 Things International!
Overview of the programme: The course consists of 23 'Things', each of which is a useful tool or technique that you may not have encountered before, or may want to develop further. We release a blog post each week with two new Things (plus a couple of break weeks), so you can work through them to a simple regular timetable, or at your own pace. Most of the Things invite you to complete a short task to trial or reflect on the tools. By the end of the course we hope you will have your own professional website and profile, as well as hands-on experience with the tools discussed. We anticipate that people will spend about an hour a week on this – reading the blog and completing the basic tasks – but of course we hope you find things sufficiently interesting to explore further at your own pace.
The 2020 pilot version is now open to the public for your reference.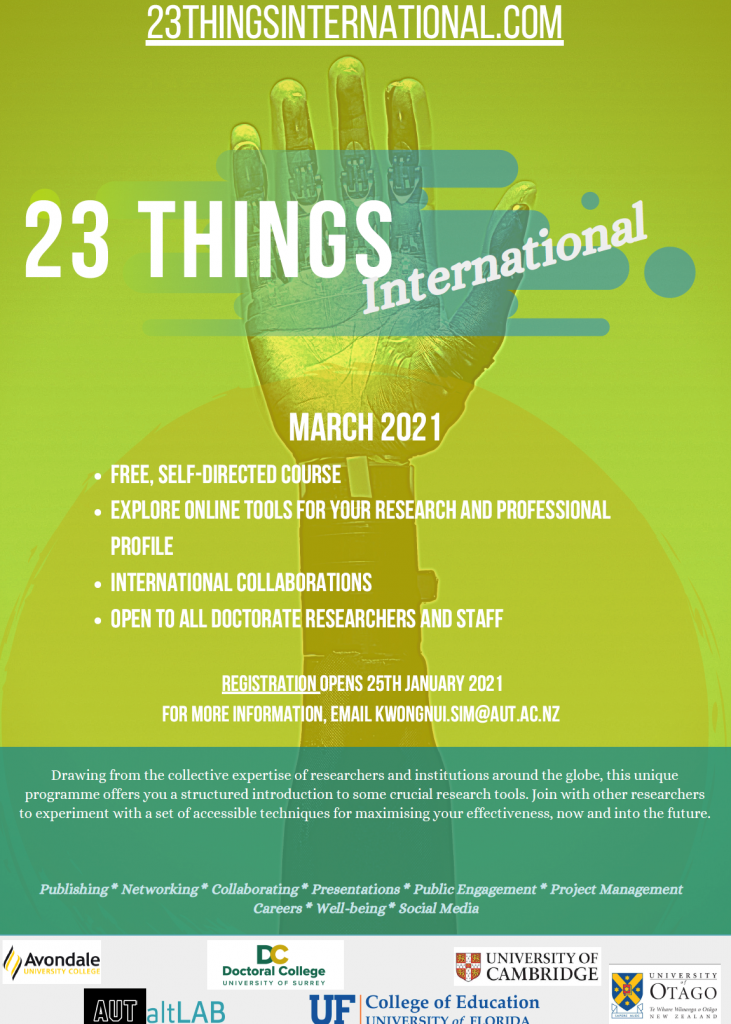 For enquiries, please contact Kwong Nui at kwongnui.sim@aut.ac.nz
For registration, please fill in the form at 23 Things International (spaces are limited)
23 Things International looks forward to welcoming you formally in March 2021.