The annual AUT Postgraduate Research Symposium is a highlight of the PG calendar here at AUT – a chance for our research students, supervisors, friends & whānau to come together and celebrate the incredible variety of research happening at AUT.
As this is our first-ever online Symposium, you may be wondering how it works.
The Symposium is being hosted via an online platform called Whova. Whova is a purpose-designed platform for conferences and symposia, and replicates as closely as possible the experience of attending an event IRL. Just as you attend sessions at a conference, you can attend sessions in Whova. The key difference is that instead of turning up to a physical room, you click through to a virtual session.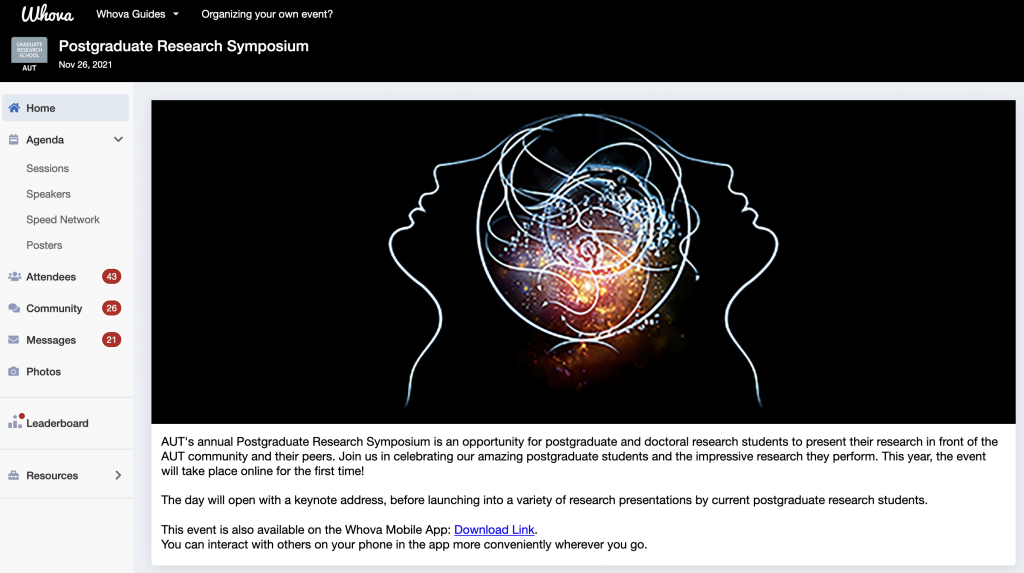 Getting in
If you haven't registered to attend, now's the time! The Symposium takes place in one week on Friday 26 November 2021 (but it's already buzzing with pre-event conversations). You can register here: https://whova.com/portal/registration/auotn1_202211
When you have registered for the Symposium, you'll be able to access it on Whova. You can choose to use either the Whova app (Apple users, visit the App Store; Android users, visit the Google Play Store) or access Whova via your browser. If you're using a browser, we recommend Google Chrome. Whova works much better in Chrome than in other browsers.
Once you've decided how to access Whova, it's time to create a Whova account. Signing up is super-simple – just enter your name, the email address you registered with, and create a password. Done.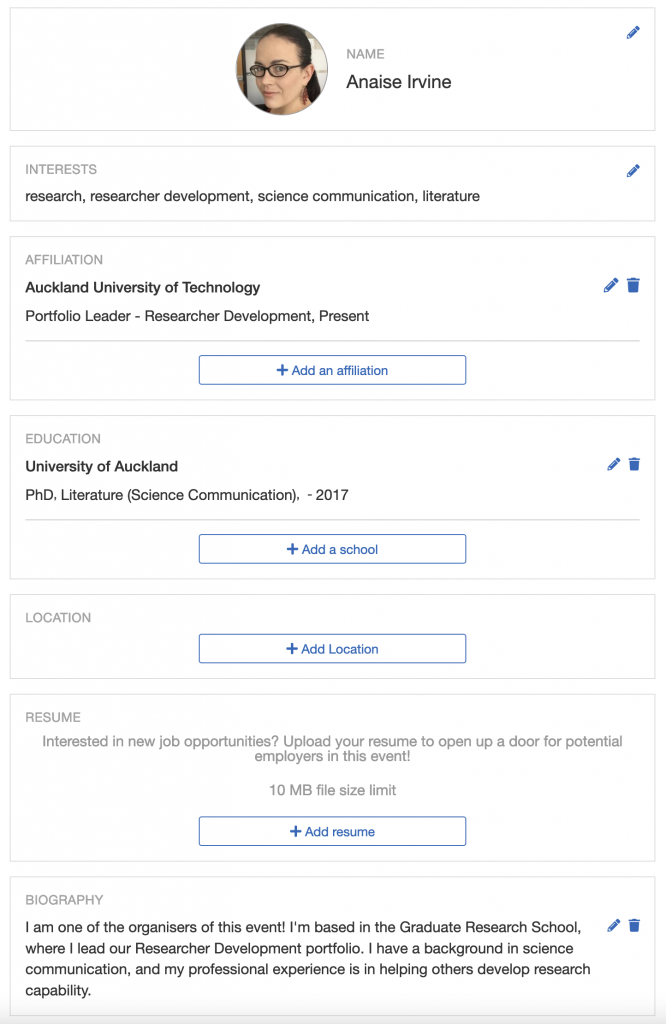 Representing yourself
Once you've signed up and logged in to Whova, you can create your profile. At a minimum, this will have your name; but you can also add details of your interests, education, bio, and a picture if you like.
This helps immensely with online networking, as your information will be visible to other attendees and will enable them to start a conversation with you ("Oh, you're into the history of candle-making? I'm into the history of candle-making too!" etc.).
You can view and edit your profile from the upper right-hand corner of your screen.
Joining sessions
The 'Agenda' section contains details of all the sessions throughout the day. You can pick and choose what you'd like to attend, then press the 'Add to My Agenda' button to customise your own programme for the day.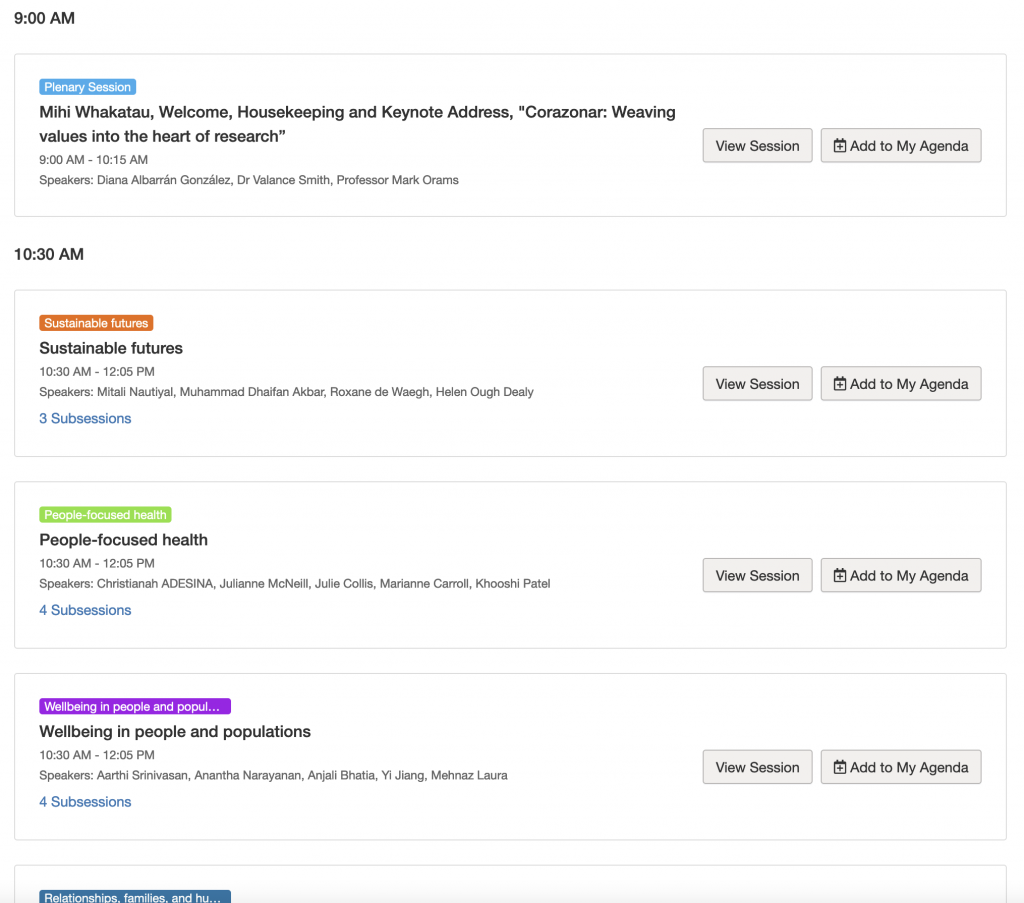 We have some great sessions lined up, including a keynote address from Dr Diana Albarrán González, over 35 oral presentations in 11 themed streams, a collection of poster presentations, an awards presentation, and a speed networking event.
When choosing which talks and posters to add to your agenda, be sure to click through and read the abstracts for details of the presentations. (Keep your eye on Thesislink next week for some profiles of our talented Symposium presenters!)
Interacting & networking
There are lots of ways to interact and meet other researchers. The 'Community' section functions a bit like a message board, and is already abuzz with discussions around our presentation topics. Join a conversation, or start one of your own!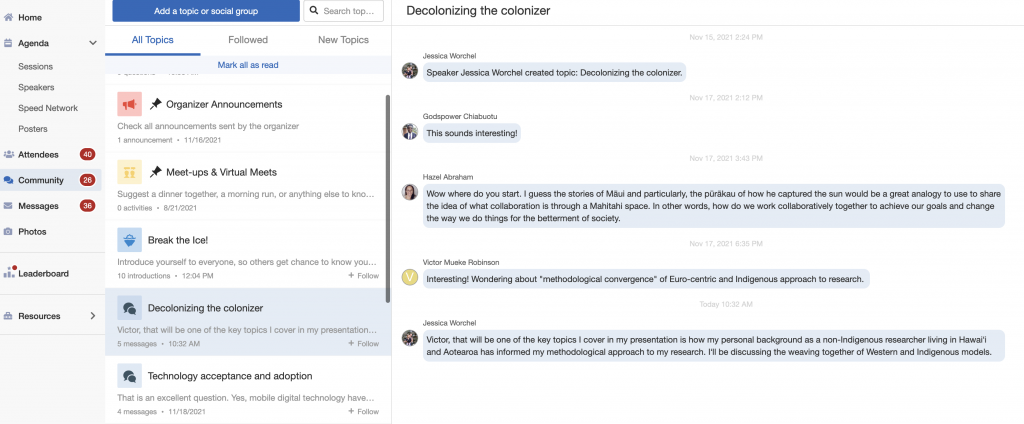 Within sessions, you can interact via a Q&A section and chat board. This allows you to ask questions of a presenter, and there will be time for this within each oral and poster presentation.
We'll also have a speed networking session from 3-3:30pm. Think of this like the 'drinks and nibbles' portion of the event – grab a refreshment, and join in for 10-minute video chats in groups of 4. This is a great way to meet an assortment of new people from across the university.
And if you find a fellow attendee whose research interests overlap with your own, you can send them a message to make a connection and keep the conversation going.
Got questions?
There's heaps more information in the Whova Attendee User Guide, or you can email our organising team on PGResearcherDevelopment@aut.ac.nz.