This week at Thesislink we are talking about some of the non-academic challenges that postgrad students can face during their degrees. Check back here each day for discussions on dealing with parenting responsibilities, financial stress, illness & disability, and disruptions at home.
Pursuing a research degree sometimes feels like one of the hardest things a human can do. It can demand every milligram of your energy, brainpower, and perseverance. Just like parenting.
We know there are lots of you out there who are doing research and parenting at the same time. Tomorrow we'll post a story about one of those students and how she copes with the demands of postgraduate study while raising a child.
But for now, read on to find a toolbox of resources at AUT that are super handy for parents. We've also found some blogs and other international resources that might be useful for parents who do research.
Resources at AUT
Subsidised childcare
Full-time AUT students can apply for a childcare subsidy of up to $50 per dependent child, per week, paid directly to your childcare centre. Applications have closed for 2015 but you can put your application in for 2016 by emailing ccsubsidy@aut.ac.nz. Check here for more details.
Childcare centres
If you're based on the City or North Shore campuses and your children are aged 6 months to 5 years, there are childcare centres on campus that might be right for you. The City childcare centre has vacancies for 12-18 month-olds right now; contact the admin officer Ra Forsyth at ra.forsyth@aut.ac.nz to find out more.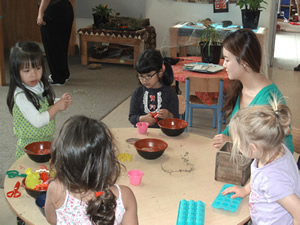 Breastfeeding spaces
If you would like to breastfeed in private, you can find dedicated breastfeeding spaces on the City campus in WT106, and on the North Shore campus in AE102F.
Writing retreats
Writing retreats provide a free quiet stay at a residential retreat with absolutely no laundry to do, meals to cook, or toys on the floor. Many faculties run writing retreats, and the University Postgraduate Centre hosts several each year (including some specifically for Masters students). Search "writing retreat" in the Researcher Development online tool to find details of upcoming retreats.
Distance / online services
When your children are young, or home for school holidays / with winter colds, it's not always feasible to get on campus. The good news is that you can access many University services online. Download your postgrad forms from your living room. Take StudySmart postgraduate courses as webinars. Learn the principles of statistics via online videos. Live chat with a librarian about your literature searching needs.
If you regularly move your workspace between home and campus, you might like to use Dropbox so that you can access all your files from wherever you are.
Free counselling
If you find yourself getting overwhelmed, make an appointment with a counsellor. You can access free and confidential counselling either online or face-to-face at the Health, Counselling and Wellbeing Centres on each campus.
Read the stories of people who've researched with kids: