This week at Thesislink we are talking about some of the non-academic challenges that postgrad students can face during their degrees. Check back here each day for discussions on dealing with parenting responsibilities, financial stress, illness & disability, and disruptions at home. Today, we have a profile of an AUT doctoral candidate who is also a parent. Our thanks to Phuong Dao for agreeing to be interviewed for this story!

A year ago, Phuong Dao and her husband were both interested in joining a doctoral programme. They applied for funding to come to AUT, and they were both offered scholarships. Sounds like a dream scenario – except they seriously considered turning down the offers.
Phuong was pregnant, and the prospect of raising a child with two doctoral projects in the household was daunting. Nevertheless, they decided to go for it. Their baby daughter was born, and when she was 3 months old, both parents started their doctorates.
That was five months ago, and Phuong and her husband are now working on their literature reviews while sharing childcare responsibilities for their 8-month-old.
Five days a week, Phuong drops her daughter off at the AUT childcare centre and heads to the lab, where she is studying signal processing in the brain. She has seven hours of childcare cover from the centre each day – though that only allows for six hours of study, since Phuong visits the centre for up to an hour per day to breastfeed.
That's the biggest challenge of doing research with a young child, Phuong says: time. "I want to do what's best for my baby and for my study." With these big competing demands, life outside of research and childcare has had to be simplified. Phuong limits housework to the essentials, and she's become very fond of one-pot cooking.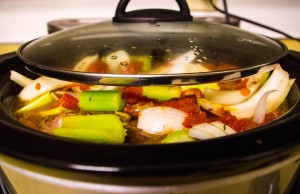 She's also become adept at research/childcare multi-tasking. At home, Phuong cares for her daughter with a stack of readings by her side. It's not easy to read with a baby beside her: "when my baby sleeps I have to turn off the light," Phuong points out. With Auckland rents going crazy it's not possible to have a home office, so Phuong often reads in the dark on her laptop, right next to her sleeping daughter.
Phuong doesn't have family in New Zealand, but she has created a strong support network. Her husband helps with housework, childcare, and errands. Phuong also sees two Plunket nurses,* who visit regularly to advise on her baby's health and nutrition. Her support network includes her supervisor, who is understanding of her parenting commitments (especially as he has two small children himself!). Phuong has also become friends with other parents through the childcare centre, and as a first-time parent, she likes knowing that she can turn to more experienced parents with questions.
Phuong tells us that she's too early in the research process to give advice to anyone else who is undertaking a research degree with children to care for. But she believes it's crucial that both parents understand each other well so they can minimise stress-related flare-ups. With so many responsibilities on Phuong and her husband's shoulders, "just a tiny thing will make us angry with each other." Communication is very important to their success and sanity as parents.
As tough and stressful as researching and parenting can be, Phuong loves what she does. "Research is my hobby," she says, "so I will balance my time to do that." She sees the parental doctorates as a way to build toward high-salaried professional careers in the future, thus building a comfortable life for her daughter. "More importantly," she adds, "when we're studying, our brains work. It's better for babies to see motivation in their parents."
She's a brain researcher, so we're going to trust her on that.
Are you responsible for children while you research? Share your stories and insights in the comments below.
*Plunket offers lots of free healthcare services for children under 5. This includes free home visits for babies. Check out their Well Child / Tamariki Ora visitation schedule for details.