The deadline for entries to the 3 Minute Thesis (3MT) competition is coming up tomorrow.
The basic idea of 3MT is that you have 3 minutes and one slide to communicate your research to a lay audience. If you've ever tried to give an 'elevator pitch' (the summary of your idea that you deliver to a colleague during an elevator ride) then you'll know how difficult it can be to communicate complex ideas in such a short timeframe.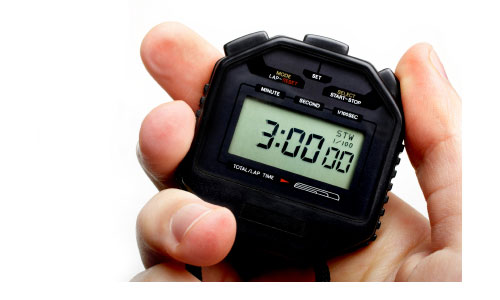 3MT is a great way to practice pitching your research to non-experts, and entries are open to both Masters and doctoral researchers. There are some serious prizes to be won as well; for instance, the winner of the doctoral competition will be flown to Brisbane to compete at the Asia-Pacific 3MT finals at the University of Queensland.
All you need to do to enter is fill in the 3MT entry form and get it back to the Postgraduate Centre by or on Friday 15 July.
Once you've entered, it's time to get to work perfecting your slide and rehearsing your 3-minute pitch. Here are our top tips:
Keep a clean slide. 3MT is not about all the technical details of your research; it's about the general idea. A simple, conceptual slide is likely to work best.
Don't rush your delivery. Yes, 3 minutes isn't very long – but cramming as many words as possible into your talk is likely to alienate your audience. Speak clearly and keep your talk accessible to non-experts.
Time yourself! At 3MT, if you go even one second over 3 minutes, you're disqualified. Practice until you're safely and consistently clocking in at around 2:50 – 2:55.
Don't forget to register for the 3MT workshop on 19 July, where veteran competition judge Associate Professor Jennie Billot will share her secrets for 3MT success.
Good luck!