When I first started working at AUT everyone kept talking about PGR9s – I had no idea what this was but now I know…
All doctoral students at AUT must present their Research Proposal at a seminar prior to it being submitted to the University Postgraduate Board. Often this seminar is referred to as a PGR9 after the form that needs to be filled in for the proposal. The PGR9 Research Proposal is then considered by the relevant postgraduate committee who will approve it under delegated authority from the University Postgraduate Board – thus confirming candidature.
Last week, I followed doctoral student Ilnara Gafiatullina through the PGR9 process as she prepared to present her Research Proposal: "The dynamics of volatility derivatives" to her peers, supervisors, and academics at a Finance Department seminar. I discovered that life for Ilnara is far from "being boring". Ilnara already has a Master's degree in Applied Mathematics and Physics (with distinction) from the Moscow Institute of Physics and Technology as well as a postgraduate degree in Risk Analysis and Management from the NOVA Information Management School so she is no stranger to academia. However, when she decided to continue studying, she wanted a change in research direction. She describes finance as being "more applied – real life research". I thought it very courageous of Ilnara to swap her research discipline from science and mathematics to finance.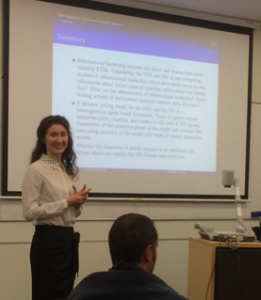 Ilnara Gafiatullina presenting her PGR9 Research Proposal
I asked Ilnara for her thoughts about preparing for her PGR9 and any tips or advice she could give to doctoral students on managing this process.
What tips/advice can you give for preparing your PGR9 presentation? 
I think to prepare a good PGR9 presentation, you need to talk more about the big picture of your research, rather than explain technical details. Of course, there will be a couple of people who want to know more about implementation, but it is very hard to cover everything in 45 minutes time, so the most important advice is to address a context or introduction to your field, i.e. mention what we already know about this field and then answer the question: "what else can we develop in this field?" and "why is it important?".  These are the most central questions of any research which really make you think hard!
How did you manage the stress/emotions before giving your presentation?
I'm not sure if I really can manage my stress fully, and can advise someone, but in my case I look for support from people whom I trust and I try to do some physical activity, which cheers me up.  And I must admit that the most valuable comments and help I received were from my supervisors, and I always try to listen very carefully to what they say to me.
What would you do differently if you could do it again? Or what did you learn from this experience?
For me when I face any deadline there is a riddle between the productivity and the number of hours I spend in the office. The question is: can you achieve the same result by staying 12 hours in the office, or by staying, say just 10, and have an extra 2 hours of rest.  I believe that those two extra hours might help not to be so much drained after the finish line, but it's so scary to test my hypothesis when I have a deadline soon!
Ilnara has shared some great tips and advice here for preparing for your PGR9. If you have any further ideas which will help your peers prepare for this important step in their doctoral journey, please share them with us.