This post about Dr Lyn Lavery's talk at the PG Week Welcome Breakfast first appeared on Thesislink in August 2015. This year's PG Week Welcome Breakfast on Monday August 14 will feature an address from recent AUT doctoral graduate and published author Dr Jesse Pirini. Contact grs@aut.ac.nz to reserve your place.
Many of you will be well-sated, in body and mind, after this morning's PG Breakfast with a fascinating talk by Dr Lyn Lavery of Academic Consulting Ltd.
Lyn talked about her experiences working towards her Masters and PhD, and the things she learned along the way. She framed postgraduate research as a journey: you have to plan your trip (with the right research questions), pack well (with the right tools and technology), and take good travelling companions with you (supportive networks and supervisors).
We also learned that Lyn's saint of a mother did her housework once a week so that Lyn could focus on her research! Great job, Lyn's mum.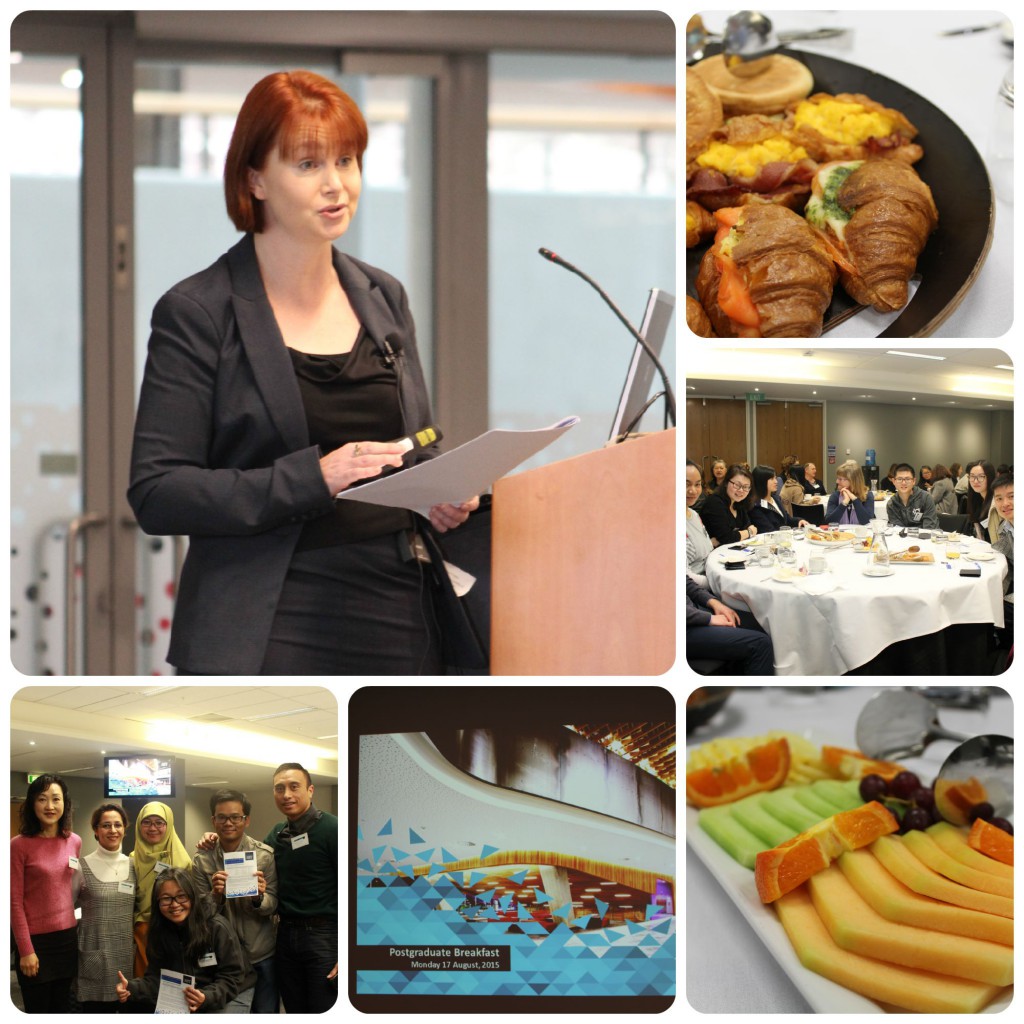 Lyn's whole talk will be available in an online video soon, but to hold us over until then, Lyn was kind enough to share these thoughts with Thesislink after her presentation.
On her early impressions of research
"It was like journeying in a strange land… it seemed interesting, but I really wasn't very sure what I was doing, and I think if I hadn't had really amazing support from my supervisors and from my fellow students, I might have gotten a bit lost along the way."
On support groups
"I courted that support… because of the nature of postgrad study, [support groups] are not something that's going to happen automatically. I think if you want to have a supportive peer network, you actually need to go out and find it for yourself."
On having a PhD in… more than what you study
"I have a PhD in project management. I have a PhD in managing yourself… I have a PhD in analysis. And I would say I have a PhD in just research, as well. There's all sorts of different ways to research."
On venting frustrations
"I remember turning up so frustrated in [my supervisor's] office one Friday, and was like: 'How can you do this for a living? This research thing, it's just too difficult, it's too stressful.' And he looked at me, and he said: 'Why do you think there's beer in the staffroom fridge?'"
Follow the PG Week happenings via Twitter @AUTPGConnect or keep an eye on Thesislink this week to stay up to date. You can also view all the event photos on the Thesislink Facebook page (this morning's photos are up already) and tag yourself if you like.