Last week, a group of AUT postgraduate research students travelled to Vaughan Park in Long Bay for three-and-a-half days of blissful, undisturbed writing. They checked into the Vaughan Park Retreat, enjoyed delicious catered meals, and relaxed in the peaceful surrounds of Long Bay Beach and regional park. They also received support from expert facilitators Associate Professor Jennie Billot of the Graduate Research School, and Dr. David Parker of Learning Support Services.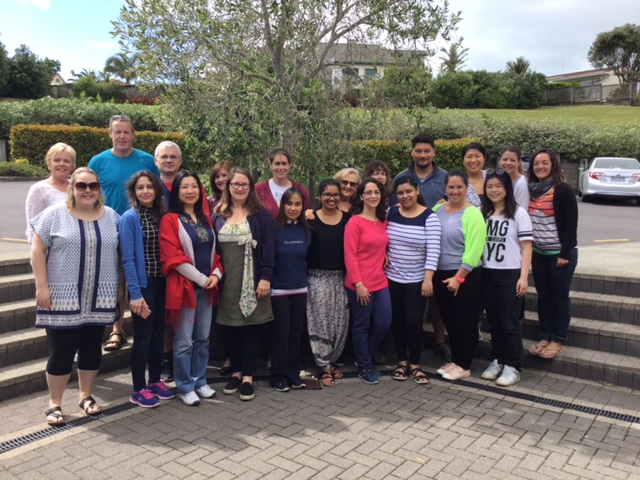 Here's what the attendees had to say about the experience:
"The writers retreat changed me… [it] enabled me to build a different relationship with myself as a student (emerging researcher), with my thesis understanding, and with the position this study has placed me in relation to life and my work." – Cushla Shepherd 
"I really liked the fact that we had very well planned days (with writing blocks and meals being well spaced out)." – Shreya Jadhav

"To other postgrad students – if you have a chance to go on one of these retreats, take it! You'll l get lots done, and when your brain needs a break, Long Bay is right there for walking and swimming." – Atakohu Middleton

"Jennie and David were excellent facilitators. Highly recommend- "five stars!" – Sean Edwards
"A big shout out to all my fellow researchers on the retreat.  Your support, empathy and comradery will go a long way to getting me to the finish line." – Kirsten
"I got more done in 3 days than I had in the last 3 months." – Jenna Rhodes
"I enjoyed the writing retreat because I left all other life stuff away and just thought about my writing." – Shabnam Jalili – Moghaddam

"It was a privilege to take part in this Retreat and I would like to thank the Graduate Research School for organising this." – Geeta Sharma
"It was very productive and I completed most of the stuff (ticked my goals)!! I really wanted to stay one more day so that I can finish one more chunk of writing!!" – Erika Ikeda
"It was wonderful to have the wisdom of leaders such as David and Jennie with us and to be free to write in such a beautiful place with no usual distractions." – Joyce
"This week has definitely contributed positively to my writing journey, and connecting to others on the same journey was motivating." – Annelize de Wet
The Graduate Research School will host retreats again in April and November next year, so if you would like to attend one, be sure to keep an eye on the Postgraduate Events page and submit an application.