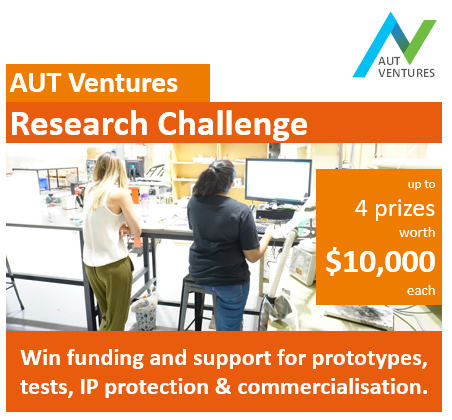 This post has been updated on 8 July 2021 from the original version, which was posted on 11 June 2021.
If you're doing research at AUT that could be turned into a business, then you could win $10,000 to kickstart your journey.
The AUT Ventures Research Challenge is focused on business ideas coming out of AUT research. It's aimed at staff and students (especially postgraduate students) working on new technologies with commercial potential.
You can choose to enter the AUT Ventures Research Challenge when you enter the main X-Challenge: The Accelerator stream, using the same pitch deck. It does have some special eligibility criteria (see below), and you'll want to attend some of the workshops, especially the Intellectual Property one.
Prizes
AUT Ventures, the commercialisation arm of AUT, will award $10,000 each to up to four AUT Ventures Research Challenge winners. The prizes can't be taken as cash but can be used to support the early stages of commercialising the research. For example:
salaries and materials for developing or testing a proof of concept or prototype;
protecting IP (for example a patent, if appropriate);
market research;
getting specialist advice.
On top of that, winners will get commercialisation support from AUT Ventures on market validation, business, IP and strategy. This could lead to further funding in the future.
The prizes will be awarded at an event in November.
Eligibility for the AUT Ventures Research Challenge
The Research Challenge is aimed to commercialise research that has been developed by AUT. Because of these requirements, the Research Challenge entries need to meet the following eligibility criteria, on top of the standard X-Challenge criteria:
The business idea needs to be commercialising the outcomes of research done at AUT.
That research needs to be publicly funded. Research paid for by a company or charity isn't eligible.
In order to award the prize, AUT needs to own the intellectual property at the time of the award. Generally, this means either:

one or more AUT staff have defined and managed the research (though students may also be working on it); or

student(s) have driven the research themselves but choose to partner with AUT Ventures for commercialisation.
Getting advice on the Research Stream
If you have any questions, contact Lois Gregory at lois.gregory@aut.ac.nz, with the subject line starting with 'AUT Ventures Research Challenge'.