If the last couple of months have taught us anything in Auckland, it's that we can't count on opening up and returning to in-person events any time soon. As such, more and more conferences are moving online as a default, not just as backup for lockdowns. In this week-long series, recent Masters graduate Scott Pilkington reflects on his experiences with online conferences and offers some tips. These may be especially helpful for those presenting at the upcoming online AUT Postgraduate Research Symposium!
Moving online can be very appealing for conferences because it means more people from diverse backgrounds can attend who, for reasons of distance, parental responsibilities, finances, or work, would not have been able to attend otherwise. Online conferences are not new, but they are now more common.
However preparing to present at an online conference is slightly different to presenting in person, and you need to be prepared. I've been to several online conferences now, and I've observed how delegates can adjust for the online format. This week I'm sharing what I've discovered.
Today I'll talk a little about the format of an online presentation. There are three common ways that online conference presentations are delivered: pre-prepared videos, livestreaming, and digital posters. Different conferences allow some, or all, of these formats (and less commonly, others as well!).
Pre-prepared videos
Pre-prepared videos are presentations that you record and upload ahead of time, which are then played at the appropriate time during the conference. They have the distinct advantage that you can avoid many of the technical difficulties that could arise during the conference: if your data stream is interrupted, sirens go off in the background, or your child/cat/dog jumps on top of you mid-presentation, it won't affect your final presentation. It also means no awkward moment where your screen is shared and everyone sees just how many files you have on your desktop, and how many folders have curse words for titles.
The downside is that you must prepare much further in advance, sometimes submitting as much as 3-4 weeks ahead of the presentation day. You may also end up stressing more about editing your presentation and presenting yourself in the best light.
You'll also need to decide how you're going to record your video. The easiest way is to record with inbuilt software on your device or Zoom. You can also record on your cell phone. Check out my blogpost on ThesisLink on producing videos using your cell phone. You can use as much or as little technology as you want here. I have a phone clip I got off a selfie stick; which I mount on a small tripod that I got with my gimbal (camera stabilizer), along with a wireless microphone.
Livestreaming
Livestreaming is when you present live. Your slides or visual aids can be displayed alongside your face, or cut-to in fullscreen – sometimes the display is up to you, and sometimes it's controlled by the conference. Livestreaming has the advantage that you can present in a more spirit-of-the-moment manner, and reference speakers who went before you in the day. I was recently the first speaker up in an online conference. I was able to make a joke based on something the chair had said about being interrupted by children and pets to help break the ice; and I paused for a moment to acknowledge an influential researcher in my field who I saw in the audience list. That wouldn't have been possible in a pre-recorded video.
The disadvantages are certainly that you can suffer from stage fright or interruptions, live. In my case, halfway through my presentation, an audience member's microphone came off mute. As it was Saturday morning in the UK where they were, we got to hear the dulcet proclamations of an English toddler saying they wanted toast, and they wanted it now. This did throw me off my rhythm, but I think being well practiced helped me to recover well and press on with the presentation.
Digital posters
Some conferences invite presentations in poster format; and for online conferences, this means digital posters. Digital posters can be prepared in exactly the same way that you would prepare a poster for physical printing and display at an in-person conference. Typically, you will be able to design your poster in your preferred programme, and then convert to an accepted format (often PDF) for publication online.
I'd recommend checking how your conference will display digital posters. If it's easy for delegates to zoom in and out, you can have a bit more leeway in your design. If the display settings aren't flexible, it's helpful to adjust your font and graphic sizes accordingly. There may also be a chat feature and/or discussion sessions within the poster display to allow you to answer questions about your work. Be sure to prepare to submit your poster well in advance, because most conferences require a week or more lead time to get your poster published.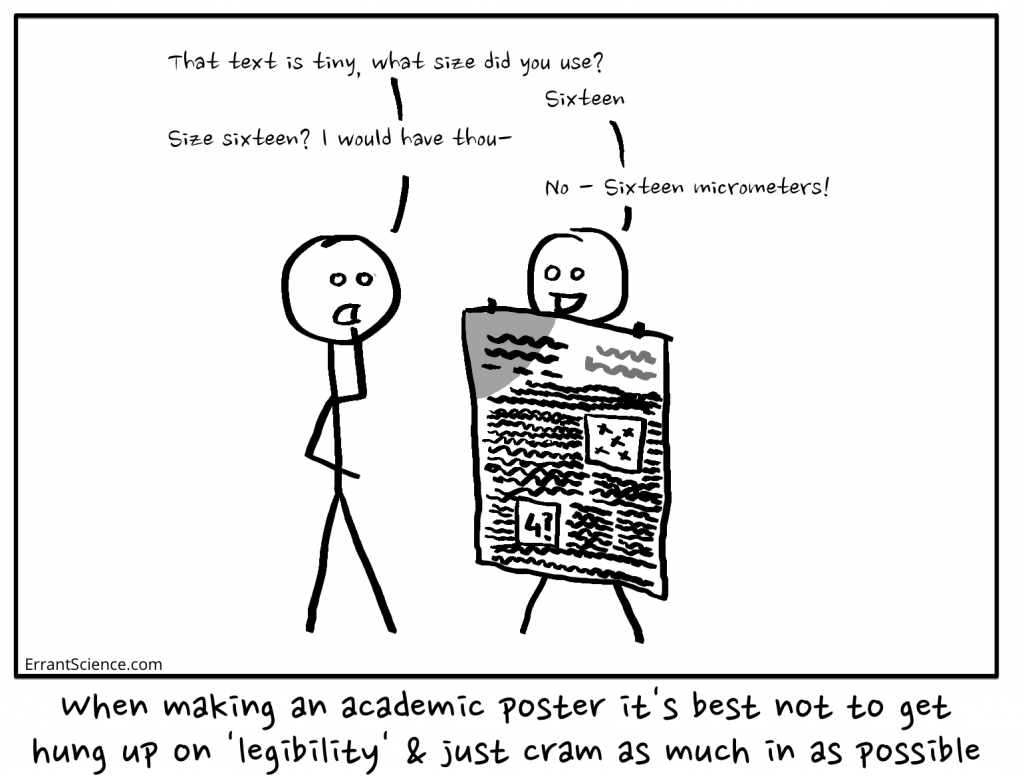 Check back tomorrow for tips on how to prepare for your online presentation!