Yesterday, at the close of the PG Symposium, a large crowd gathered to watch the finals of the Masters and Doctoral 3 Minute Thesis competition.
Three Masters students and eight doctoral students made it through the heats to compete for the AUT titles. Their research sounded absolutely fascinating – we learned about educational decision-making in Vietnamese families, building cities that allow the elderly to participate in society, improving sleep apnoea masks, producing better anti-cancer drugs, and many other fabulous topics.
The judges noted that the finalists had greatly improved their presentations since the heats, and that they faced a very tough decision choosing winners. But choose they did. So drumroll please….
Congratulations to Kate Stone, Masters 3MT winner, and Iana Gritcan, doctoral 3MT winner!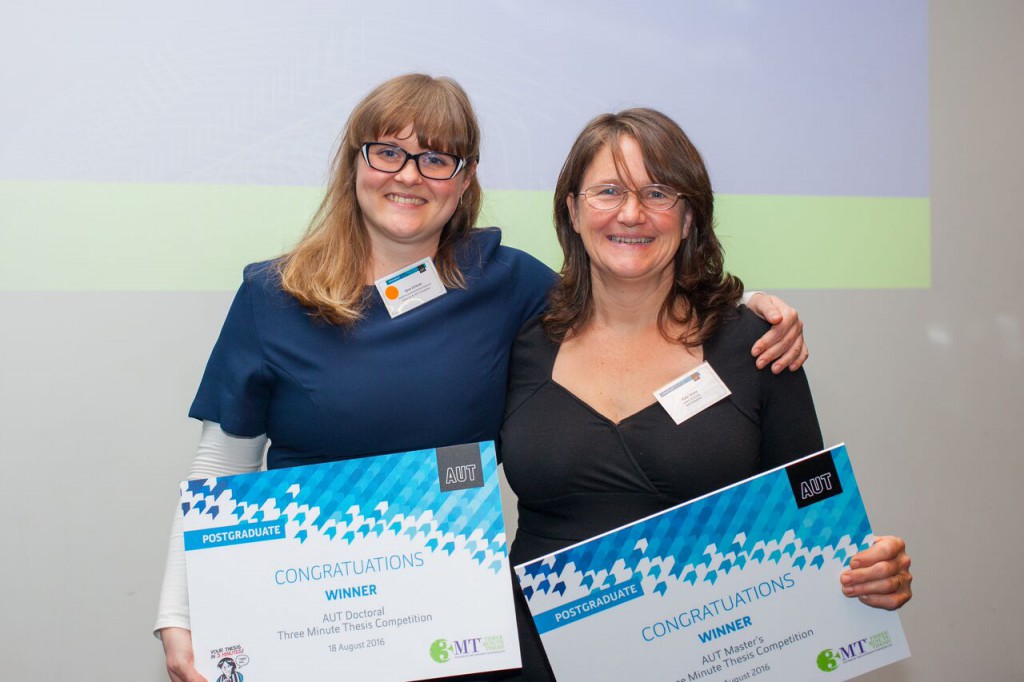 Iana Gritcan (left) and Kate Stone (right)
Kate used her three minutes to tell us about adapting her personal story of her daughter's disappearance for the screen in AUT's screenwriting programme. Kate also won the audience vote for her presentation – congratulations Kate! She will go on to compete for AUT at the NZ Inter-University Masters 3MT competition on 21 September at Massey University.
Iana's presentation described her work on New Zealand's mangrove plants. Her research involves tracking the impact of nutrients and salinity on mangrove growth. Iana impressed the judges with her winning mix of research content and effective presentation skills. She will fly to Brisbane to represent AUT at the Doctoral Asia-Pacific 3MT Competition on 30 September at the University of Queensland.
A special congratulations also to Lucia Davis, the runner-up in the doctoral competition, who won the audience vote for her talk on mothering in inter-ethnic relationships. Doctoral second runner-up Daniel Dantzic impressed with his talk on researching pancreatic cancer, and Masters runner-up and second runner-up Amrit Kaur and Sam Li gave us insights into their work on cross-cultural early childhood teaching and smartphone game design, respectively.
Congratulations to all the competitors and winners!