PG Week got off to a rocking start on Monday with the Welcome Breakfast. The breakfast speaker was Maggie Eyre, a presentation coach with stories galore. She apparently coached a CEO with such bad stage fright that he forgot his own name during a speech, and even made Helen Clark cry during one particularly brutal coaching session! Thankfully, her session left us in smiles rather than tears.
Maggie had our breakfast-goers up on their feet, practising presenting themselves with energy and verve. A few brave souls even presented their research using random props with zero preparation time!
Maggie's top tips for those presenting at PG Week were:
Practise, practise, practise, especially in front of other people and/or a camera (bonus points if you practise in front of children and they understand you).
Make seven seconds of eye contact with people in a variety of spots throughout the audience.
Move about the stage if you like, but move purposefully rather than nervously.
Keep slides clean and free of too much text. Ask yourself: is the text for your audience, or for you?
Avoid jargon, unless you explain it first.
What's up next in PG Week, you ask?
Workshops
Learn about literature reviews on Wednesday, EndNote on Thursday, ethics applications on Friday, MS Word on Saturday, and much more. Check out the full schedule and book your place at CareerHub.
Poster display
View posters of PG research in the WG201 foyer (or the WG306 foyer on Symposium day).
PG Symposium
Join us on Thursday for a jam-packed day of PG research presentations on over 40 topics. This year you can learn about using video to track honeybees' pollen sacs; Buddhism in psychotherapy; marketing sustainable products; the experiences of Kenyan female chefs; robotic swarms; and teaching through dance, to name just a few. Sessions run throughout the day from 10:30am – 3pm, but don't forget to come from 9am for Professor Mark Orams' keynote address. Click below to expand the full programme: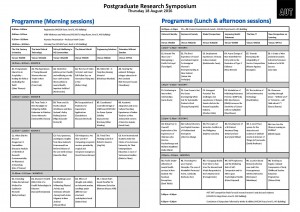 3 Minute Thesis finals
They competed in the heats earlier this month; now watch the 3MT finalists battle it out for the AUT Masters and Doctoral 3MT championships! The finals take place on Thursday (after the Symposium) from 3 – 4:30pm.